Axis Bank Young Bankers Program - 2017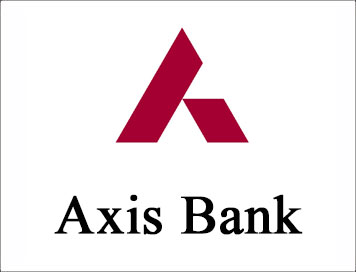 Axis Bank Young Bankers Program - 2017
About Program:
Axis Bank Young Bankers (ABYB) Program is an endeavour by Axis Bank to nurture industry leaders of the future by imparting domain expertise and skill set in the field of Banking.
Axis Bank Young Bankers Programme is a one year, full time residential programme which will be conducted at two training campuses, Manipal Global Education in Bangalore and Amity Global Business School in Noida
Educational Qualification:
Only graduates from any stream, with 55% and above in their FINAL year of graduation or aggregate of 55% and above in graduation.
Age:
Age limit 25 years, born on or after 1st April, 1992
Stipend:
Course Duration: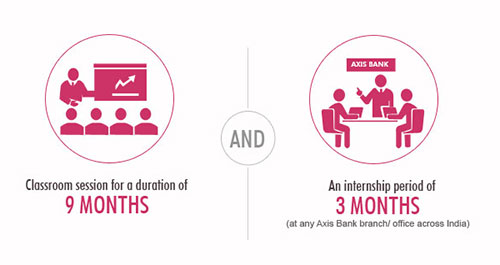 Selection Process
The selection will be through a two stage selection process, which is aimed at selecting candidates who are most likely to succeed at various Branch banking roles offered by the Bank. The Bank is looking for candidates with high integrity, who are dedicated towards work, with positive attitude and good communication skills.
Candidates shall be selected by Axis Bank through a selection process consisting of an online Aptitude test followed by an interview.
Aptitude Test: The Aptitude test will be conducted online. The test duration will be of 2 hours (approximately). The test will assess the proficiency of candidates in the areas of below mentioned 4 modules:
| | | |
| --- | --- | --- |
| S No. | Module Name | Duration (minutes) |
| 1 | English | 15 |
| 2 | Quantitative Ability | 15 |
| 3 | Logical Reasoning | 15 |
| 4 | Personality | 20 |
Basic Instructions:
There are 4 modules in the Test.
Candidate will not be allowed to use a calculator or any other calculating device.
You have to complete all the modules. If you exit the test in between, you will not be provided with a score. There is no negative marking hence you can attempt as many number of questions as you want.
Each module has a fixed number of questions that need to be attempted in the allotted time. During the test, you will be able to see the 'remaining time' of the test on the top right corner of the screen.
The time allotted for each module is exclusive to that module only; the time will not carry forward to the next module. We request you to kindly keep the track of module time throughout the test.
You cannot come back and review the question once you have answered the question.
On the screen, you will see a question or multiple questions with options. Each question has only one correct answer. You have to choose the correct answer from the options provided. For question types other than multiple choice questions, module specific instructions will be provided at the start of the module.
Personal Interview:
All the applicants who successfully clear the Aptitude test will be invited for a Personal Interview.
Candidates will be informed of their progress and status at each stage by email and SMS.
Please do note that Axis Bank's decision pertaining to the selection will be final and binding.
Program fees and Funding
To pursue this course, the interested applicant will have to invest Rs 3, 40,000 plus service tax. This amount will cover the tuition fees, boarding, lodging for the entire course.
Fees will be payable as per the payment schedule below.
| Term | Fees | Service Tax @ 14% | Swachh Bharat Cess @ 0.5% | Krishi Kalyan Cess @ 0.5% | Term Sum |
| --- | --- | --- | --- | --- | --- |
| 1 | 110000 | 15400 | 550 | 550 | 126500 |
| 2 | 115000 | 16100 | 575 | 575 | 132250 |
| 3 | 115000 | 16100 | 575 | 575 | 132250 |
| Total | 340000 | 47600 | 1700 | 1700 | 391000 |
The candidate can choose to fund the course themselves.
Important Dates:
Registration Open from 1st March 2017
Courtesy: Axis Bank