(Jobs) Bank of Maharashtra : Apprentices Recruitment 2023-24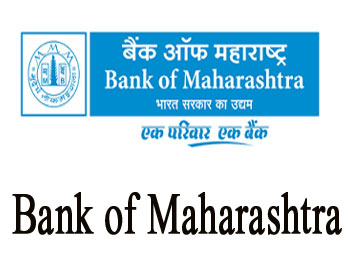 (Jobs) Bank of Maharashtra : Apprentices Recruitment 2023-24
BANK OF MAHARASHTRA, leading listed Public Sector Bank with Head Office in Pune and more than 2080 network of branches invites online application from candidates for engagement of Apprentices, under Apprentices Act, 1961 (as amended from time to time) shall be imparted training as per Bank's requirement. It is one of the most important schemes in terms of quality of training, experiential learning and consists of basic as well as on job training / practical training.
Details of Numbers of Posts, Reservation & Age: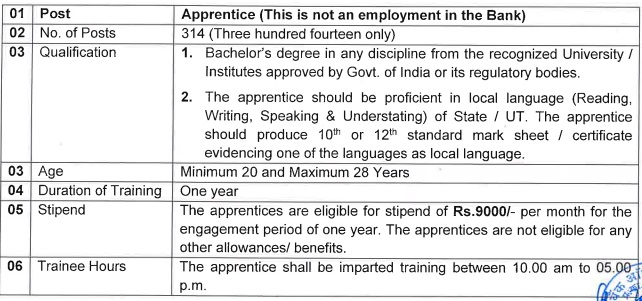 * Age Relaxation to reserved category is applicable as per Government guidelines. Abbreviations: SC: Scheduled Caste, ST:
Scheduled Tribe, OBC: Other Backward Classes, EWS: Economically Weaker Section, UR: Unreserved, PwBD: Persons with Benchmark Disabilities, OC: Orthopedically Challenged, VI: Visual Impairment, HI: Hearing Impairment, ID: Intellectual / Multiple Disabilities.
Eligibility Criteria: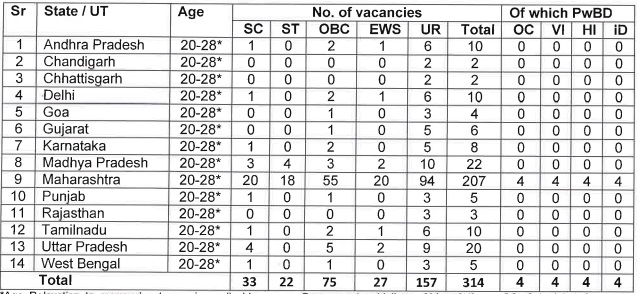 Selection Procedure:
1. The candidates shall be required to register online application on bank's website with 12th percentage (HSC/10+2) / Diploma percentage. Merit list for engagement of apprentices will be prepared State-wise in descending order on the basis of marks / percentage obtained in 12th (HSC/10+2)/ Diploma examination, in case more than one candidate having the same percentage, such candidates will be ranked according to their age in descending order, in the merit.
2. The applicants who have completed Engineering Degree after completion of Diploma from the recognized University / Board of Govt. of India, their Diploma Marks / Percentage in the aggregate of all semesters / years would be considered for preparing merit list. Refer to clause (03) (11) for calculating percentage of marks.
3. Computerized Merit list will be prepared only on the basis of the information filled by the Applicant in the ONLINE application. In case of any discrepancy observed at the time of Documents Verification, the Applicant will be disqualified summarily.
4. Mere eligibility does not imply that the Bank is satisfied beyond doubt about the candidate's eligibility and shall not vest any right in a candidate for engagement / selection. Bank reserves right to change / modify the selection / engagement criteria, if necessary.
5. The Bank would be free to reject an engagement of any candidate at any stage of, if he/she is found to be ineligible and / or furnished incorrect or false information / certificates / documents or has suppressed any material facts and the fees paid by the ineligible candidates shall be forfeited. If engaged, such a candidate's apprenticeship contract may be summarily cancelled.
6. Engagement of selected apprentices is subject to his/her being declared medically fit, verification of antecedents and other formalities as decided by the Bank.
7. A Waiting list (State-wise) for one year will be maintained and called the candidates for apprenticeship training on account of unfilled positions / non joining of candidates for training.
8. The finally selected candidates shall have to submit their applications along with the requisite documents through web portal https://apprenticeshipindia.gov.in, initially they have to register themselves in the said web portal.
How to Apply:
A. Detailed Guidelines/Procedures for Application Registration:
01. Scan their photograph, signature, left thumb impression and the hand written declaration, ensuring that both the photograph and signature, left thumb impression, hand written declaration adhere the required specifications as given under guidelines.
02. Applicants should be in possession of Aadhaar Card. At the time of registration, Applicants have to
fill 12-digit Aadhaar Card number. The Applicants not having Aadhaar number and have enrolled for Aadhaar but have not received Aadhaar Card can enter 28-digit Aadhaar Enrolment ID printed on the Aadhaar Enrolment slip.
03. Left thumb impression (If a candidate is not having left thumb, he/she may use his/her right thumb. If both thumbs are missing, the impression of one of the fingers of the left hand starting from the forefinger should be taken. If there are no fingers on the left hand, the impression of one of the fingers of the right hand starting from the forefinger should be taken. If no fingers are available, the impression of left toe may be taken. In all such cases where left thumb impression is not uploaded, the candidate should specify in the uploaded document the name of finger and the specification of left/right hand or toe).
04. A hand written declaration (text given below). The hand written declaration must be in the candidate's hand writing and in English only. If it is written by anybody else and uploaded or in any other language, the application will be considered as invalid. (In the case of candidates who cannot write, may get the text of declaration typed and put their left-hand thumb impression (if not able to sign also) below the typed declaration and upload the document as per specifications).
05. The text for the hand written declaration is as follows:
"I,
(Name of the candidate), hereby declare that all the information submitted by me in the application form is correct, true and valid. I will present the supporting documents as and when required."
06. The above mentioned hand written declaration must be in the candidate's hand writing and in English only and should NOT BE IN CAPITAL LETTERS. If it is written by anybody else or in any other language, the application will be considered as invalid.
07. The left thumb impression should be properly scanned and not smudged.
08. Have a valid personal e-mail address and mobile number which should be kept active till the completion of this engagement process. Bank may send letters on registered e-mail ID only. In case a candidate does not have a valid personal e-mail ID, he/she should create his/her new e- mail ID and mobile no. before applying on-line and must maintain that e-mail account and mobile number.
09. Procedure for uploading document/s:
There are separate links to upload the mark-sheets / degree certificate of 12th (10+2) / Diploma and Graduation. The documents must be uploaded in pdf format with maximum file size of 500kb.
1. Applicants are advised to go to the Bank's website www.bankofmaharashtra.in and click on the
'Careers' → Current Openings to open the link "Online application for Engagement of Apprentices, under Apprentices Act, 1961 - Project 2022-23" and then click on the option "APPLY ONLINE" which will open a new screen.
2. To register application, choose the tab "Click here for New Registration" and enter Name, contact details, and e-mail id. A Provisional Registration Number and Password will be generated by the system and displayed on the screen. Applicant should note down the Provisional Registration
Number and Password. An Email & SMS indicating the Provisional Registration number and Password will also be sent.
3. Visually Impaired candidates should fill the application form carefully and verify / get the details
verified to ensure that the same are correct prior to final submission.
4. Applicants are advised to carefully fill and verify the details filled in the online application themselves as no change will be possible / entertained after clicking the COMPLETE REGISTRATION button.
5. The Name of the candidate or his / her father husband etc. should be spelt correctly in the application as it appears in the Certificates / Mark sheets. Any change/alteration found may disqualify the candidature.
6. Validate your details and save your application by clicking the Validate your details' and 'Proceed' button. Candidates can proceed to upload Photo, Signature, Left Thumb Impression & Hand Written Declaration as per the specifications given in the Guidelines for Scanning and Upload of Photograph and Signature.
7. Candidates can proceed to fill other details of the Application Form. Click on the Preview Tab to preview and verify the entire application form before COMPLETE REGISTRATION. Modify details, if required, and click on 'COMPLETE REGISTRATION' only after verifying and ensuring that the photograph, signature uploaded and other details filled by you are correct. Candidates are requested to apply on-line between 13.12.2022 and 23.12.2022.
8. On successful completion of application, a preview of an application form will be generated; which may be printed / saved for record. The printout of the application form should not send to the Bank.
(iii) Application Fees/Intimation Charges (Non-Refundable):
| | | |
| --- | --- | --- |
| Sr | Category | Application Fee / Intimation Charges |
| 01 | UR / EWS / OBC | 150 |
| 02 | SC / ST | 100 |
| 03 | PwBD | Fee exempted |
| 04 | Women Candidates | Fee exempted |
Important Dates:
| | |
| --- | --- |
| Particulars | Date |
| Commencement date of on-line application | 13-12-2022 |
| Last Date of online application | 23-12-2022 |
| Date of Online Examination | 23-12-2022 |
| Date of GD / Interview | Will be informed separately. |
Courtesy: Bank of Maharashtra