Current Affairs for BANK, IBPS Exams - 23 July 2022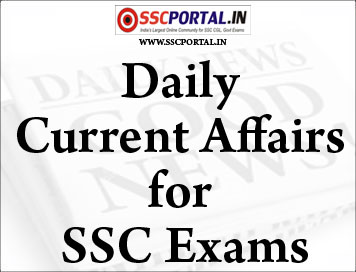 Current Affairs for SSC CGL Exams - 23 July 2022
::NATIONAL::
Centenarian Seetha Mahalakshmi, daughter national flag designer, passes away
Veteran freedom fighter Ghantasala Seetha Mahalakshmi, daughter of Pingali Venkayya who designed the national flag of India, passed away after a brief illness in Andhra Pradesh's Palnadu district.
Seetha Mahalakshmi turned 100 years in December 2021 and had been staying at the residence of her son G V Narasimha Rao at Priyadarshi Colony in Macherla town.
"She was feeling unwell for the last few days. On Thursday afternoon, she told me that she was going to die in a few hours. By 8 pm, she breathed her last quietly on her bed," Rao said.
Her mortal remains were cremated on Friday afternoon with full state honours. Macherla MLA Pinnelli Ramakrishna Reddy, Palnadu collector Siva Sankar Lotheti and senior officials attended the cremation.
According to Rao, Seetha Mahalakshmi was to be taken to Delhi on August 2 for felicitation by the Centre on the occasion of Azad Ki Amrut Mahotsav. "We were making arrangements for her visit to Delhi, but this tragedy happened unexpectedly," he said.
On March 12, 2021, Andhra Pradesh chief minister Y S Jagan Mohan Reddy felicitated Seetha Mahalakshmi on the occasion of the completion of 100 years of designing of the tricolour by her father Pingali Venkayya, which was later approved as the Indian National Flag.
On the occasion, Jagan presented a shawl and cash award of ₹75 lakh to her and spent about half an hour with her, before paying floral tributes to Venkayya.
Expressing grief over the death of Seetha Mahalakshmi, the chief minister said it was a matter of a great pride for Andhra Pradesh that her father had designed the national flag in April 2021. He conveyed his condolences to the bereaved family members and recalled the contribution of the family to the freedom movement.
::INTERNATIONAL::
World food crisis expected to ease as Russia, Ukraine sign deals with UN, Turkey
Russia and Ukraine on Friday signed deals with the United Nations and Turkey clearing the way for key grain exports to world markets amid the conflict, Reuters reported.
The United Nations said it expects the deal to resume Ukraine grain exports through the Black Sea to be fully operational in a few weeks and restore shipments to pre-war levels of five million tonnes a month. The deal comes amid the fighting between the two countries which will complete its fifth month.
Here are the ten highlights of the Ukraine-Russia grains deal:-
1. The deal was signed in Turkish capital Istanbul, seen as the first step forward in easing an international food crisis due to the war. Russian Defense Minister Sergei Shoigu and Ukrainian Infrastructure Minister Oleksandr Kubrakov signed separate deals with U.N. Secretary General Antonio Guterres and Turkish Defense Minister Hulusi Akar, AP reported. The ceremony was witnessed by Turkish President Recep Tayyip Erdogan.
2. UN secretary general Antonio Guterres said, "Today, there is a beacon on the Black Sea . A beacon of hope, a beacon of possibility, a beacon of relief in a world that needs it more than ever."
3. Russia and Ukraine happen to be among the world's top food exporters. The February 24 invasion of the eastern European country resulted in blockade of Ukrainian ports, stranding dozens of ships and leaving 20 million tonnes of grain stuck in silos and driving up world grain prices.
4. A UN official said that a Joint Coordination Centre (JCC) will be set up as the world peace body is looking at a very quick rate of implementation. The official added that there were minor issues which needed to be worked out before the initiative is fully implemented.
5. As per the plan, the Ukrainian officials will guide ships through safe channels across mined waters to three ports, including the major hub of Odesa, where they will be loaded with grain, Reuters reported.
6. These ships will then exit Ukrainian territorial waters in the Black Sea, transit the Bosphorus strait to a Turkish port for inspection and later head to their destinations. "We are aiming for a monthly export of about 5 million metric tonnes, which was the pre-war level from those three ports," the official said.
7. The plan will be initially active for 120 days but will be renewable, the officials said, adding they "do not anticipate to stop it any time soon". The UN official said that representatives from all parties would work to oversee operations, vessel inspections and possible incidents. Both Ukraine and Russia have agreed not to attack any vessels involved in the initiative. "This centre in Istanbul is going to be the heartbeat of the operation and is very similar to... ceasefire monitoring," said the official.
8. Ukraine has sought international guarantees that the Kremlin wouldn't use the safe corridors to attack the Black Sea port of Odesa. Ukrainian authorities have also accused Russia of stealing grain from eastern Ukraine and deliberately shelling Ukrainian fields to set them on fire, AP reported. Mykhailo Podolyak, an adviser to Ukraine's president insisted that no Russian ship would escort vessels and that there would be no Russian representative present at Ukrainian ports. Ukraine also plans an immediate military response "in case of provocations," he said.
9. Ukraine's Foreign Minister Dmytro Kuleba said Friday that Kyiv trusts the United Nations, not Russia, to uphold a deal struck in Istanbul to unblock grain exports disrupted by Moscow's invasion, AFP reported. "Ukraine doesn't trust Russia. I don't think anyone has reasons to trust Russia. We invest our trust in the United Nations as the driving force of this agreement," Kuleba said.
10. US State Department spokesperson Ned Price said the U.S. welcomes the agreement in principle. "But what we're focusing on now is holding Russia accountable for implementing this agreement and for enabling Ukrainian grain to get to world markets. It has been for far too long that Russia has enacted this blockade," Price said.
::ECONOMY::
India's foreign exchange reserves drop $7.5 billion to $572.7 billion
India's foreign exchange reserves dropped $7.5 billion to $572.7 billion during the week ended July 15, the latest data released by the Reserve Bank of India (RBI) showed. The reserves are now at 20-month low, lowest since November 6, 2020, when they were at $568 billion.
The decline in foreign exchange reserves during the week is mainly due to foreign currency assets that were down $6.5 billion, the data showed.
Reserves have fallen about $60 billion in 2022, which was mainly due to aggressive intervention by the central bank to curb the sharp volatility in the foreign exchange market. The rupee has come under pressure since the war broke out in Europe in late February. The Indian unit has depreciated around 7 per cent against the dollar in 2022.
"…the Indian rupee is holding up well relative to both advanced and emerging market economies (EME) peers. This is because our underlying fundamentals are strong, resilient, and intact. The recovery is gradually strengthening. The current account deficit is modest. Inflation is stabilising. The financial sector is well-capitalised and sound. The external debt-to-GDP ratio is declining. The foreign exchange reserves are adequate," Das said.
The July RBI bulletin had said the foreign exchange reserves at $ 580.3 billion on July 8, 2022, were equivalent to 9.5 months of imports projected for 2022-23.
Bulk of India Inc's overseas debt is hedged: RBI governor Shaktikanta Das
At a time when the unhedged exposure of Indian companies to overseas borrowing has stoked concerns about a depreciating rupee, Reserve Bank of India (RBI) Governor Shaktikanta Das has said a predominant part of the outstanding external commercial borrowings (ECBs) has been effectively hedged.
"It is necessary to look at the so-called unhedged forex reserves in their proper context instead of getting carried away...by what is revealed on the surface," Das said at an event in Mumbai on Friday. "We have no particular level of the rupee in mind, but we would like to ensure its orderly evolution and we have zero tolerance for volatile and bumpy movements," he added.
The rupee has faced considerable pressure against the dollar in recent months due to record foreign outflows from the domestic equity markets amid elevated commodity prices and higher US interest rates. The rupee broke past the psychological 80 per dollar mark earlier this week, prompting intervention from the RBI. However, it snapped an 11-week losing streak on Friday, settling at 79.85 against the dollar.
The June 2022 Financial Stability Report of the RBI said from the outstanding ECBs of $180 billion, about 44 per cent, or $79 billion, is unhedged, Das said. "This includes around $40 billion liabilities of public sector companies, mainly in the petroleum, railway and power sectors, which have assets with a natural hedge character," he said.
The remaining portion of around $39 billion, which represents 22 per cent of the total outstanding ECB exposure, includes borrowings by companies that have a natural hedge in the form of foreign currency earnings. "This would leave a very small portion of the total outstanding ECBs that are truly unhedged," he added.
The RBI governor said foreign exchange risks of public sector entities could be absorbed by the government, if required, but such possibility was unlikely.
"In recognition of the fact that there is a genuine shortfall of forex in the market relative to demand because of import and debt servicing requirements, the Reserve Bank has been supplying US dollars to the market to ensure that there is adequate forex liquidity," Das said. "This is the very purpose for which we had accumulated reserves. You buy an umbrella to use it when it rains," he said, adding that the external sector was well-buffered to withstand the ongoing terms of trade shocks.
While considerable uncertainties regarding the assessment of price rise remain, it would appear that inflation has peaked, Das said.
"It's a very uncertain environment and we should not rush to any conclusion in such a great hurry. As it would appear, inflation appears to have peaked. Please mind my words, it has appeared to (have) peaked and it has moderated from 7.8 per cent...and now it is 7 per cent," he said.
::Sports::
Los Angeles to host the 2028 Summer Olympic Games
Discover how the Los Angeles Candidature Committee describes their vision for the Games and the legacy they plan to leave behind:
For centuries, people have been following the sun to California – to a coastal paradise of beautiful weather, inspiring landscapes and an ocean of possibilities. Since it was first settled, LA – the City of Angels – has built a culture of progress by harnessing creativity and imagination for reinvention. Today, LA28 is inviting the world to follow the sun on a journey of sport and innovation destined to help transform the Games to:
Deliver the ultimate personalised experience for the Athletes
Maximise our existing sports infrastructure to ensure a sustainable long-term legacy
Produce a fresh blend of sport and entertainment to help refresh the Olympic brand worldwide and capture the imagination of youth
Reignite America's passion for the Olympic Movement for generations to come
Embrace the principles of Olympic Agenda 2020 through fiscally prudent Games that deliver enduring benefits to the host city and the Olympic Movement.