Current Affairs for BANK, IBPS Exams 23 September 2017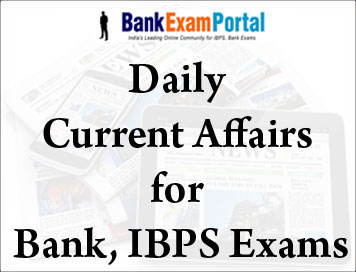 Current Affairs for BANK, IBPS Exams 23 September 2017
::National::
Cauvery Maha Pushkara left river banks polluted
The Cauvery Maha Pushkara at the temple town of Srirangapatna near Mandya has left the river and its banks polluted. The event, being held for the first time and concludes on Saturday, has drawn over two lakh devotees since September 12.

According to the Srirangapatna Town Municipal Corporation, the event has generated four tonnes of waste so far.
Indian movie Newton got official entry to Oscars 2018
The Rajkummar Rao-starrer is about free and fair elections in conflict-ridden jungles of Chhattisgarh

Newton will be India's official entry to the Best Foreign Film category at the Oscars next year, according to a Film Federation of India official.

The Amit Masurkar directed movie, starring Rajkummar Rao, Pankaj Tripathi, Raghubir Yadav and Anjali Patil, tells the story of polling officer Newton Kumar, who is bent on conducting free and fair elections in the conflict-ridden jungles of Chhattisgarh.

ManishMundra, founder of Drishyam Films and producer of Newton , said, "This is the most incredible news of our lives – all of our hard work and faith is finally paying off."

The Oscars will be held on March 4, 2018, in Los Angeles.
Prominent names in the disqualified directors
Arunachal Pradesh Chief Minister PemaKhandu and a junior Minister in the BJP-led Assam government, Naba Kumar Doley, figure among the 1.06 lakh disqualified directors associated with 'shell companies' that have been "named and shamed" by the Ministry of Corporate Affairs (MoCA).

Mr. Khandu's name appears as one of the three directors of Rigsel Hotels and Resorts, whose registered address with the Registrar of Companies (Shillong) is the same as the one mentioned in his election affidavit.

The company was registered on February 3, 2011, when the Arunachal Pradesh government was headed by his late father, DorjeeKhandu, and Mr. PemaKhandu was not active in politics.

A background search on the business activity of Rigsel Hotels showed that the company was started with a paid-up capital of Rs. 1.2 lakh but no details of its business activity are available in the public domain.

Mr. Doley, who is a Minister of State for Sports and Youth Affairs in the Assam government, has also been disqualified as a director of Abutani Wheels India, a company that is into real estate and renting out property.

He claimed he had been disqualified as a member from one of his companies since he had not filed annual returns as required by the Companies Act, 2013.

In May 2016 when Mr. Doley was sworn in as a Minister, his declared assets were to the tune of Rs. 7 crore.

The disqualification of directors and the crackdown on alleged shell companies, the MoCA claimed, is part of the government's fight against black money.

Former Kerala Chief Minister OommenChandy, Leader of the Opposition in the Kerala Assembly Ramesh Chennithala and V.K. Sasikala, who is in jail, were among the prominent names in the MoCA list of disqualified directors released on Monday.

On September 12, when the crackdown started, the Union Minister of State for Corporate Affairs, P.P. Chaudhary had said, "The disqualification under Section 164 of the Act is by operation of law."
Many anomalies in Nirbhaya scheme implementation
A 10-year-old rape survivor from Chandigarh who recently gave birth, has not received the Rs. 9 lakh due to her from the Central Victim Compensation Fund under the Nirbhaya scheme.

The money, to be put in a fixed deposit, was meant to take care of her psychological well-being, medical treatment and education. It was part of the total Rs. 10 lakh the Supreme Court had awarded her while denying her an abortion. So far, her family has received only Rs. 1 lakh.

The Supreme Court found that the Chandigarh case was only the tip of the "utter confusion and unhappy state of affairs" over the disbursal of compensation to sexual assault victims under the Nirbhaya scheme, started in 2013 following the brutal gang-rape and death of a 23-year-old student in Delhi

The Bench of Justices Madan B. Lokur and Deepak Gupta recorded "there is a lot of confusion" among the three Ministries Finance, Home Affairs and Women and Child Development over what their responsibilities are as far as the scheme is concerned.

The Centre has disbursed Rs. 200 crore each to the States to compensate sexual assault victims under the Nirbhaya fund, senior advocate Indira Jaising, the court's amicus curiae, said.

Ms. Jaising said some States have spent the money on CCTV cameras and other "paraphernalia" rather than using it to pay compensation to the human victims of sexual assault and abuse.

The court referred to the Home Ministry affidavit, which showed "anomalies" like the Jharkhand government's disbursal of Rs. 2.48 crore to women victims of sexual assault, but with the column of the number of victims blank.
::INDIA AND WORLD::
Afghan police officers may be trained by India
After training Afghan National Army officers and soldiers for four years, India is now planning to train Afghan police officers here as well, says Afghanistan's envoy to India.

The MoU for the proposal, which will be supported by the United Nations Development Programme, is a first, and was discussed as part of enhancing the security partnership between India and Afghanistan during the meeting of the Strategic Partnership Council in Delhi.

we do have similarities in some of the aspects of the conflict we face, so Indian knowledge and experience is going to be very useful for us, especially in counter-terror, and counter-narcotic [programmes].

The Ambassador's comments come ahead of two separate, high-profile visits to Delhi next week, by U.S. Secretary of Defence James Mattis, and Afghanistan Chief Executive Abdullah Abdullah, which are expected to shape the contours of the U.S.'s newly announced Afghanistan policy, in which U.S. President Donald Trump called for greater Indian involvement in development projects in Afghanistan.

The External Affairs Ministry did not respond to requests for a comment on the plan to train police officers, who have borne the brunt of a spike in attacks by Taliban since 2016, when about 6,300 members of Afghan security and defence forces were killed.

At present about 200 Afghan soldiers are trained at a time at the Indian Military Academy, including 130 cadets and 30 to 40 officers.

The training of police officers, which India had first offered to Afghanistan in 2011, will be a significant step in security ties, which are a small part of the relationship, compared with India's $3 billion investment in civilian projects since 2002, with 116 new projects announced this month.

India sent Afghanistan four Russian-made Mi-25 helicopters, but has yet to concede to Afghan requests for more equipment, transport vehicles, while an agreement for Indian engineers to repair the helicopters and to refurbish old aircraft that is non-functional, has still not been finalised a year later.

The Afghan envoy said that while Afghanistan was "grateful" for India's help thus far, they understood India's own capabilities to give Afghanistan more hardware are "constrained". "Strategically speaking, we are now looking at building an Army on this western model," Mr. Abdali said.
::INTERNATIONAL::
Blue Whale menace
Michael J. Gobartov, Vice Consul, Consulate General of Russian Federation in Southern India, and Director, Russian Centre of Science and Culture, informed the Madras High Court (Madurai Bench) that Russia would render assistance to India in curbing the dangerous Blue Whale Challenge game, which originated in his country.

The court was hearing a suomotu public interest litigation (PIL) petition initiated by it following the recent suicide of a Madurai-based college boy, who had allegedly taken to the Blue Whale Challenge.

In the report submitted to the court, through R. Rajagobal, advocate and Chairman, Indo-Russian Centre for Rural Development, the Vice Consul stated that the Government of Russia and the Consulate are willing to render their assistance to the High Court and the Government of Tamil Nadu, and are willing to take instructions in putting an end to the game, which had turned into a wild subculture, according to the Consul.

However, he submitted that the competent government authority's decision to block the Russian social media site VKontakte (VK) was not wise as the Blue Whale Challenge content, which first surfaced on VK, was now available on other platforms as well.

The Consul stated that all the discovered suicidal groups of VK had been blocked and the ones that existed were moderated in the Russian language, including the game tasks. Since the language was Russian, and with very few Indian users, he said only the [relevant] content should have been blocked rather than the social media site itself.

The Division Bench of Justices K.K. Sasidharan and G.R. Swaminathan, which had initiated the suomotu PIL, had directed the Centre to use the diplomatic relationship it shared with Russia to block the URLs and links to the game.
Hasina floats five-point peace plan at UNGA
Bangladesh Prime Minister Sheikh Hasina has floated a five-point proposal at the United Nations to find a permanent solution to the Rohingya crisis.

Emphasising swift action to resolve the crisis in her speech at the 72nd UN General Assembly (UNGA) in New York. she called for immediate steps to end the 'cleansing' of the ethnic Rohingya minority. She was at the centre-stage at the UNGA this year, with the Rohingya crisis deepening along Bangladesh's border with Myanmar, a crossing made by over 430,000 refugees fleeing violence in Rakhine State in past over three weeks.

Hasina's five-point proposal says: Myanmar must stop the violence and the practice of ethnic cleansing in the Rakhine State unconditionally, immediately and forever; the UN Secretary General should immediately send a fact-finding mission to Myanmar; all civilians, irrespective of religion and ethnicity, must be protected in Myanmar; for this, 'safe zones' could be created inside Myanmar under UN supervision; sustainable return of all forcibly displaced Rohingyas in Bangladesh to their homes in Myanmar must be ensured; and the recommendations of the Kofi Annan Commission Report must be implemented immediately, unconditionally and entirely.

Hundreds of thousands of Rohingya from the Rakhine State are entering Bangladesh to flee violence. As estimated by IOM (International Organisation for Migration), in last three weeks, over 430,000 Rohingya entered Bangladesh. They are fleeing 'ethnic cleansing' in their own country where they have been living for centuries

She proposed that the UN Secretary-General send a fact-finding mission to Myanmar where 'safe zones' can be built under the UN's supervision for the protection of all civilians, irrespective of religion and ethnicity.

Hasina thanked UN Secretary-General Antonio Guterres and the Security Council for their attempts to stop atrocities, and bring peace and stability in Rakhine.

India, China and Southeast Asian countries should help implement Prime Minister Sheikh Hasina's five-point Rohingya solution proposals.

The ASEAN countries are yet to take a united step to force Myanmar to take effective measures. China needs to be more vocal in stopping the tragedy inflicted on the Rohingya.

Bangladesh has been handling the crisis of influx of refugees from Myanmar single-handedly, said the official, urging more international support. The role of ASEAN and the Organisation of Islamic Countries (OIC) will be critical in ensuring support for the Rohingya, said the official.

Bangladesh has been receiving attention from international relief agencies, though political support to force Myanmar to stop the campaign against the Rohingya has not arrived so far so far. Prime Minister Hasina did not receive the assurance of support from U.S. President Donald Trump during her ongoing trip to the U.S. for the UN meet.
Mount Agung volcano - alert to highest level
Indonesia raises volcano alert to highest level

For the third time in little over a week, Indonesian authorities have raised the alert level for the Mount Agung volcano on the tourist island of Bali to the highest level, and some 10,000 villagers have left their homes around the mountain.
Iran unveils ballistic missile capable of reaching Middle East
Iran's Revolutionary Guard unveiled its latest ballistic missile capable of reaching much of the Middle East, including Israel, while the country's President vowed that Tehran would press ahead with its missile program in defiance of U.S. demands to the contrary.

The unveiling came during a military parade in Tehran that commemorated the 1980's Iraq-Iran war.

The move was a direct challenge to U.S. President Donald Trump, who in August signed a Bill imposing mandatory penalties on those involved in Iran's ballistic missile program and anyone who does business with them.

Though Iran has long boasted of having missiles in the same range in its arsenal, it was the first time that the Khoramshahr, with a range of 2,000 km was displayed in public. In February, Iran test-fired the same medium-range type of missile, prompting Mr. Trump to say that the United States is "putting Iran on notice".

Mr. Trump has vowed repeatedly to take a tougher line toward Iran than his predecessor, threatening at various times to renegotiate or even dismantle the nuclear deal, and shoot Iranian boats out of the water if they provoke U.S. naval vessels in the Persian Gulf.

Tehran has backed Yemen's Shia rebels known as Houthis against a U.S.-supported and Saudi-led coalition of mostly Arab states that seeks to return the internationally elected government to power.
Uber suffers blow by Transport Authority in London
It has demonstrated a lack of corporate responsibility, says transport authority

Taxi-hailing app Uber suffered a major blow as Transport for London (TfL) — the body responsible for issuing licences to cab companies — said that by the end of this month it would lose its licence to operate in the city.

Uber London Limited is not fit and proper to hold a private hire operator license," said TfL regarding the transport app's private hire operator licence that expires on September 30.

It said that when it came to reporting serious offences, gaining medical certificates for its drivers, and other issues, Uber's approach and conduct demonstrated a "lack of corporate responsibility in relation to a number of issues which have potential public safety and security implications". Around 3.5 million Londoners use the app.

Providing an innovative service must not be at the expense of customer safety and security…all companies in London must play by the rules and adhere to the high standards we expect — particularly when it comes to the safety of customers," said London's Mayor Sadiq Khan, who backed the move.

Uber pledged to challenge the decision in the courts to "defend the livelihoods" of drivers and the "consumer choice of millions of Londoners…the bank would show the world that, far from being open, London is closed to innovative companies who bring choice to consumers".

However, Uber has brought down travel costs, making travelling in taxis affordable to new sections of society. It has also provided livelihood to many from migrant communities, who form the bulk of Uber drivers.
::SCIENCE AND TECHNOLOGY::
Pyro devices to blame for PSLV failure: ISRO
The Indian Space Research Organisation (ISRO) has come round to the inference that the PSLV C-39 mission on August 31 was doomed by the failure of the pyro devices that actuate the separation of the heat shield encasing the satellite from the rocket.

A high-level meeting chaired by ISRO chairman A.S.Kiran Kumar held at the VSSC came to the conclusion on the failure of the pyro devices. The meeting was informed that simulation exercises were on to ascertain the reason for the malfunctioning of the pyro devices.

ISRO had declared the PSLV- C39 mission unsuccessful after the heat shield refused to open and release the IRNSS-1H navigation satellite on board. The failure review committee set up by ISRO had zeroed in on the electrically-operated pyro devices as the culprit after it was found that the command for separation had gone through but failed to trigger the mechanical process that pops open the heat shield.

Pyro devices use small charges to actuate the release mechanism that forces the fairings apart.
PSLV will be launched in November-December
The next launch of the PSLV will be in November-December, ISRO Chairman A.S. Kiran Kumar said.

He was speaking to the media on the sidelines of the two-day national seminar on Emerging Trends in Aerospace Technologies, AseT 2017, organised by the Aeronautical Society of India (AeSI) and the Vikram Sarabhai Space Centre.

Earlier, in his inaugural address at the seminar, Mr. Kumar said there was a real problem in certifying a system or a technology for actual usage. This was a problem faced by developing countries. Government agencies and industry partners could design, build, and realise products.

The real question mark is certification. Another problem is in quickly establishing a mechanism for translating design into product. There is a real need to adopt enabling technologies and incorporate them in the systems we build.

Otherwise, technology will remain the forte of the Western countries. We need to identify technologies and incorporate them into our designs and provide cost-effective solutions to the nation. While there have been many developments on the aerospace front, nothing much has been done by way of designing passenger aircraft to be used for domestic flights.

In his presidential address, society president and member, NITI Aayog, V.K. Saraswat said technology had to be consistently upgraded so that India was globally competitive. There was a need to accelerate commercialisation of technologies we developed. The nation faced a major lacuna in terms of design capabilities.

The chairman of the AeSi, Thiruvananthapuram S. Pandian, VSSC director K. Sivan, AeSI secretary general Lalit Gupta and secretary of the Thiruvananthapuram branch A. P. Beena were among those present for the inaugural ceremony.

The 68th AGM of the Society is also being held along with the conference.
::BUSINESS AND ECONOMY::
Global pact on Trade Facilitation in Services to tap services potential
India, which has proposed a global pact on 'Trade Facilitation in Services' (TFS) has called for tapping the full potential of the services sector to boost the world economy.

Commerce Minister Suresh Prabhu, representing India at the 'Asia-Europe Meeting' (ASEM) Economic Ministers' meeting in Seoul, said Asia and Europe must look at ways to boost services trade, which has a multiplier effect on job creation.

India had submitted to the World Trade Organisation (WTO) a proposal for the TFS, aimed at easing norms, including those related to the movement of skilled workers across borders for short-term work, to boost global services trade growth. India is keen that the TFS proposal gains traction before the WTO's Ministerial Conference in December in Argentina.
SBI unveils bond index at LSE
The State Bank of India has introduced the FTSE SBI Bond Index series in partnership with the global index provider FTSE 100, which the bank hopes would give investors from India, U.K. and globally, tools to analyse India's government bond market, and drive growth in this market.

"With the launch of this index along with FTSE Russell, our intention is to give people a benchmark on which they can make investment calls," said Arundhati Bhattacharya, chairman, SBI, at the unveiling at the London Stock Exchange.

"With respect to the Indian government bond market, we didn't have any international indices on which international investors could take a call as to whether they would like to come in and invest," she said.

There is a lot of capital wanting to come into India. But what we lacked was enough depth in terms of the various types of products it is important to have benchmarks on which people can rely; so, this index, launched in collaboration with the London Stock Exchange, will ensure that international investors have a benchmark that is transparent, well governed and something they can easily rely on.

"We have a few products in mind and we are sure that given that India is a very good destination at this point of time for investors that there will be enough interest in in and that people will innovate and have products based on this."

She anticipated products emerging in the next three to five months following necessary approvals. "Even though there may not be products in the interim, we expect it to be used by international investors."

WaqasSamad, CEO of fixed income and multi asset at FTSE Russell said they would be working to develop index products that could "create greater awareness and foster liquidity across the Indian domestic fixed income spectrum."
Centre to speed up GST refunds
The Centre termed as "wild estimates," exporters claiming that working capital was getting blocked due to delay in Goods and Services Tax (GST) refunds. However, it was working out a mechanism to expedite the refund process.

"There are various figures also being discussed on the blockage of such (working capital) funds (post-GST), which are wild estimates.... (and) not based on facts," an official statement said.

Virtually rejecting claims by exporters that about $10 billion worth of funds is estimated to be a blocked (till December 2017) due to the delay in refunds, the Centre said in respect of 66% value of exports, exporters had preferred duty drawback scheme instead of taking actual refund of input taxes in the pre-GST regime.

On the mechanism for expediting refunds, it said, "We are trying to find a way of giving refund by linking form (GST Return) GSTR 1 with form GSTR 3B and, therefore, for the month of July, where form GSTR 1 is already filed, the authorities would be in a position to process the refund applications."

Allowing refund based on GSTR-3B and GSTR-1 submission will ease up working capital and business issues for exporters who have had their funds locked up.

The Centre said while the GSTN application for refund was getting ready, the Centre was in the process of finding other ways of giving refund, if necessary, through a manual procedure.

In the meantime, the State and Union government authorities have been asked to clear the pending refund claims of Central Excise and VAT for the pre-GST period so that exporters will get immediate relief.
SAT pulled up SBI Life for refund delay
The Securities Appellate Tribunal (SAT) has pulled up SBI Life Insurance for delaying hearing of the matter related to a refund of Rs. 275.29 crore to policy holders.

In March 2014, Insurance Regulatory and Development Authority of India (IRDAI) ordered SBI Life to refund Rs. 275.29 crore which, according to the regulator, was the quantum of excess commission collected from holders of Dhanaraksha Plus Limited Premium Paying Term policy.

In 2015, SAT had granted interim relief to SBI Life by directing IRDAI not to take any coercive action to recover Rs. 275 crore till the tribunal passed final orders in the matter. The appellate body imposed costs of Rs. 10,000 on SBI Life for dragging the matter for more than two years after having received a reprieve in the form of a stay on the IRDAI order. The tribunal posted the matter to October 31 for hearing.

While the policy had two premium payment options single premium and two-year premium paying plan the regulator found that the corporate agents of SBI Life, that mostly included State Bank of India and its associate banks, did not reveal to the policy holders the availability of single premium option.

The share of commission was less in a single premium option when compared with the two-year premium plan.

Senior advocate Janak Dwarkadas along with DMD Advocates appeared for SBI Life while IRDAI is being represented by Suvan Law Advisors along with senior counsel KevicSetalwad.

Meanwhile, the public issue of SBI Life Insurance, which closed was subscribed 3.58 times with bids received for 31.55 crore shares as against 8.82 crore shares on offer, in the price band of Rs. 685 to Rs. 700.