Kaveri Grameena Bank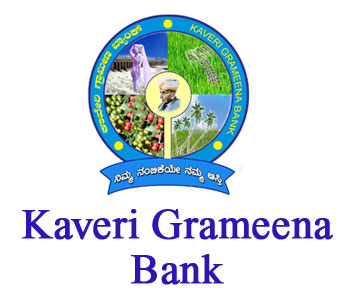 Kaveri Grameena Bank
About Bank:
Kaveri Grameena Bank formed on 01st November 2012 (sponsored by State Bank of Mysore) on amalgamation of Cauvery Kalpatharu Grameena Bank, Chikamagalur-Kodagu Grameena Bank and Vishvesvaraya Grameena Bank-all Regional Rural Banks sponsored by State Bank of Mysore, Corporation Bank and Vijaya Bank respectively The objective of amalgamation is to strengthen the Bank so that it can better cater the needs of the clientele in the farm and non-farm sector more effectively, efficiently and contribute more for the economic development of the area.
Consequent upon amalgamation, the operational area of the Bank spreads to ten southern districts of Karnataka State viz., Mysuru, Hassan, Bengaluru Rural, Ramanagar, Bengaluru Urban, Tumakur, Chamarajanagar, Mandya, Kodagu and Chikamagalur districts. The Bank has 450 Branches with a customer base of 28.03 lacs as on 31.03.2015.
The Bank is having its Central Office in Mysuru City and has Eight Regional Offices at Mysuru;Mandya;Bengaluru;Tumakur;Hassan,Chikmagalur,Chamarajanagar and Madikeri for operational convenience and effective control, duly decentralizing, sanctioning and monitoring of the loans to the needy and to solve operational gaps and customer grievances in an accelerated and effective way. In the area of operation, the Bank is a forerunner catering the needs and aspirations of farming community, business class, professional and self employed persons, rural artisans engaged in cottage & tiny industries and other sections of the society, almost covering 1/3rd of geographical area of Karnataka State.
All our 450 Branches are fully computerized and functioning under Core Banking Solutions platform with 1722 dedicated personnel rendering effective, timely and needy services to our client. The Bank has identified the wishes and aspirations of our customers and has number of innovative products to suit their fund based and non-fund based financial needs. Details are furnished elsewhere. The Bank's initiative in farming, nurturing and credit linking Self Help Groups has been appreciated in all forums. Bank has also formed and linked Joint Liability Groups to facilitate the needy who could not offer security to avail financial assistance for income generating activities. Read More.....
Contact Details:
Kaveri Grameena Bank
Head Office: CA-20 Vijayanagar IInd Stage
Mysuru – 570017
PH: 0821-2469502
TOLL-FREE: 1800-425-03232
Website: www.kaverigrameenabank.com
Courtesy: Kaveri Grameena Bank