Daily Questions Challenge for IBPS Exams - 12 August 2017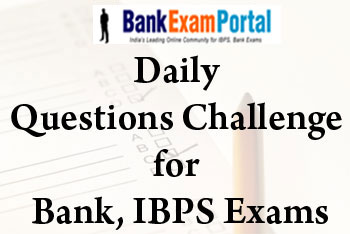 ---
Daily Questions Challenge for IBPS Exams - 12 August 2017
Write and Discuss Your Answer with Q.No in Comment Box at the Bottom of Post.
---
Question 1) Central Board of Film Certification chairman is appointed by?
A) President
B) Government
C) Governor
D) Prime minister
Question 2) Who among the following served two consecutive terms as Vice President?
A) Dr. S. Radhakrishnan
B) V.V. Giri
C) K.R. Narayanan
D) Mohd. Hamid Ansari
1) A and B
2) B and C
3) A and D
4) A,C,D


Question 3) Athirappilly hydel project is located in which state?
A) Kerala
B) Karnataka
C) Goa
D) TamilNadu
Question 4) Article 35A is related to?
A) Jammu and Kashmirstate's legislature to define "permanent resident"
B) Right to education
C) Promotion of cooperative societies
D) Protection of interests of minorities