Daily Questions Challenge for IBPS Exams - 19 September 2017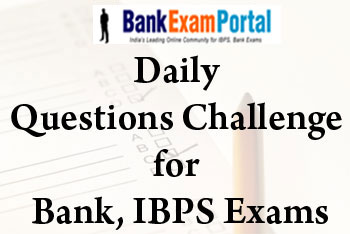 ---
Daily Questions Challenge for IBPS Exams - 19 September 2017
Write and Discuss Your Answer with Q.No in Comment Box at the Bottom of Post.
---
Ques- Consider the following statements are correct?
1. Anti-defection is mentioned in schedule IX of the Indian constitution
2. Speaker's decision for anti-defection is subject to judicial review.
A. Only 1
B. Only 2
C. Both
D. None
Ques- Which of the following member was awarded with Nansen award by UNHCR for playing key role in the release of schoolgirls kidnapped by Boko-Haram?
A. Good luck jonathan
B. Zonnah Mustapha
C. Abdul Qureshi
D. Muhammed Buhari
Ques- Which of the following Articles prohibits the surcharge on the GST?
A. Article 269
B. Article 270
C. Article 271
D. Article 272
Answer:
1 (B), 2 (B), 3 (C)