Daily Questions Challenge for IBPS Exams - 06 August 2017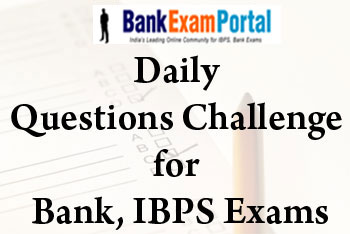 ---
Daily Questions Challenge for IBPS Exams - 6 August 2017

Write and Discuss Your Answer with Q.No in Comment Box at the Bottom of Post.
---
Ques- Consider the following statements.
1) The Election of Vice-President does not include the members of the State Legislative Assemblies.
2) The Vice-President should be qualified for election as a member of the Rajya Sabha.
3) The nomination of a candidate for election to the office of Vice-President must be subscribed by at least 20 electors as proposers and 20 electors as seconders.
Which of the statement given above is / are correct.
a) 1 only
b) 1, 2 only
c) 1, 3 only
d) 1, 2 & 3
Ques- Which of the following hubs are associated with NITI Aayog?
1. Team India Hub
2. Knowledge and Innovation Hub
A. 1 only
B. 2 only
C. Both
D. None
Ques- Which of the following is correct according to internal migration in India?
1. Majority of migration is from urban to rural area
2. Migration is evenly distributed across all city centres.
A. 1 only
B. 2 only
C. Both
D. None