Daily Questions Challenge for IBPS Exams - 9 August 2017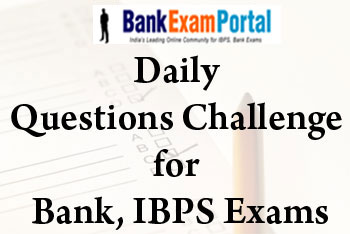 ---
Daily Questions Challenge for IBPS Exams - 9 August 2017
Write and Discuss Your Answer with Q.No in Comment Box at the Bottom of Post.
---
Ques 1) The oath of Supreme court judge is administered by?
A) Chief Justice of India
B) Lok Sabha speaker
C) President
D) Governor


Ques 2) Cabinet committee on Economic Affairs is chaired by
A) Finance Minister
B) Prime Minister
C) Opposition leader
D) Defence Minister


Ques 3) Article 370 of Indian Constitution is related to?
A) Special status of Jammu and Kashmir
B) Anti defection
C) Special provision with respect to the State of Assam.
D) Freedom of trade, commerce and intercourse.