Current Affairs for BANK, IBPS Exams 10 September 2017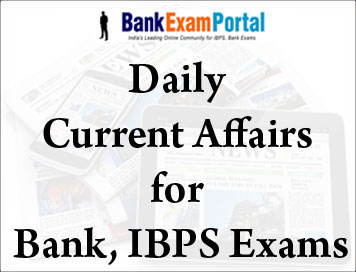 Current Affairs for BANK, IBPS Exams 10 September 2017
::National::
SUVs will be charged extra 7% cess while small cars are exempted
GST Council lowers some rates, extends filing deadlines

Bringing some relief to firms struggling to file Goods and Services Tax (GST) returns due to glitches on the GST Network, the GST Council on Saturday decided to extend the deadline for filing returns.

The Council also decided to set up a ministerial group to assess and fix the IT challenges. The Council also decided to bring some relief to consumers by reducing the GST rate on about 30 items of common use including idli and dosa batter, oilcakes, raincoats, rubber bands, roasted peanuts, 'dhoopagarbattis' and dried tamarind.

The Council also spared small cars from a cess hike in the range of 2% to 7% that has been imposed on mid-size, luxury and sports utility vehicles (SUVs).

The meeting has taken voluminous decisions on wide-ranging issues brought before by the fitment panel after thoroughly examining the proposals, objections and concerns put forward by States with the help of experts.

The GST Council has also decided to constitute a Group of Ministers to monitor and resolve the technology challenges faced during GST implementation.

The Council also extended the deadlines for filing returns for the first month of GST (July) up to October 31. The deadline would now be October 10 for GSTR-1, October 31 for GSTR-2, November 10 for GSTR-3 and October 18 for GSTR-4, the Finance Ministry said.

A panel of officers under Revenue Secretary Hasmukh Adhia has also been tasked to examine GST-related issues faced by exporters. The Federation of Indian Exporters said there are several 'pressing issues' that need attention, including quicker refunds of taxes paid on exports and exempting export-oriented units from integrated GST levy.
A online channel for transgenders launched
The Hyderabad-based transwoman activist, who holds two post-graduate degrees, decided to launch the first YouTube channel in India conceptualised and actualised by transgender individuals.

The channel, according to its makers, will provide accurate and scientific socio-cultural, religious, economic and political information relevant to them.

Trans-vision will produce its web series in three languages — Telugu, Kannada and Dakhni, an Urdu dialect spoken in certain parts of the Deccan Plateau, including Hyderabad.

The channel's programming, which includes launch videos that were released in the first week of September, reveals a rich palette of ideas executed by transgender people.

Pilot episodes of the channel, which already has over 1,000 followers on Facebook and 261 on YouTube before its official launch, will be relayed in Telugu, with English subtitles.
Two day tourism festival in mini-kashmir
A two-day tourism and culture festival began in the picturesque Bhaderwah town in Jammu and Kashmir as authorities revealed a record footfall of over four lakh tourists in the mountainous region this year.

The festival, aimed at promoting tourism, was inaugurated by minister of state for tourism Priya Sethi and attracted a large number of people who enjoyed the colourfulprogrammes presented by various groups

Known as 'mini-Kashmir' due to its resemblance to the 'paradise on earth', Bhaderwah in Doda district attracted a record number of four lakh tourists this year.

The tourist arrivals, mostly domestic including pilgrims, touched 1.77 lakh in 2014 followed by 2.23 lakh in 2015 and 2.27 lakh in 2016.
::INDIA AND WORLD::
India- Sri Lanka
Continuing the discussion on crucial bilateral projects, a delegation-level meeting was held in New Delhi between the newly appointed Sri Lankan Foreign Minister Tilak Marapana and India's External Affairs Minister Sushma Swaraj. The visiting Minister, who took charge on August 15, also met Prime Minister Narendra Modi.

The two sides discussed the entire gamut of bilateral relations and ways to further deepen the historically close and friendly relations between the two countries

The discussion is significant as in recent weeks India has been seeking faster implementation of bilateral projects. During her visit to Colombo last week to attend the Indian Ocean Conference, Ms. Swaraj held discussions with Sri Lankan President MaithripalaSirisena and Prime Minister RanilWickremesinghe.

External Affairs Minister urged the government to swiftly finalise the Mattala airport project near Hambantota which India is interested in running as well as a container terminal at the Colombo Port.
::ECONOMY::
To balance bilateral trade deficit India seeks more Chinese investments
In a bid to reduce the huge bilateral trade deficit with China, which, in the last fiscal, was a whopping $51 billion, the Centre has now sought greater investments from Chinese firms including in India's export-focused Special Economic Zones (SEZ).

In a meeting with his Chinese counterpart Zhong Shan on the sidelines of the ongoing ASEAN Economic Ministers Meeting (and related meetings) in Manila, Indian commerce minister Suresh Prabhu called for greater Chinese investments in India and "offered facilitating measures including in SEZs".

Mr. Prabhu's immediate predecessor Nirmala Sitharaman had informed Rajya Sabha in July 2014 that "trade deficit can be reduced to sustainable levels through more exports from India to China, as well as by China's investing in building manufacturing capacities in India."

The aim, was to then increase shipments from such manufacturing facilities in India to China by catering to specific demand in that country.

However, Foreign Direct Investment (FDI) from China in India between April 2000 and June 2017 was worth only $1.67 billion or a minuscule 0.49% of the total FDI inflows of $342 billion during that period.

Mr. Prabhu and Mr. Zhong Shan have agreed on holding a (bilateral) Joint Economic Group (JEG) Meeting soon. Instructions have been given to the concerned officials of both the countries to do the ground work prior.

In this regard, both ministers "agreed to set up product/sector specific Joint Working Groups to promote exports and bilateral trade."

In September 2014, during the India visit of Chinese President Xi Jinping, the Joint Statement had stated that the Chinese side announced the establishment of two industrial parks in India, one in Gujarat and another in Maharashtra.

The Chinese side would also endeavour to realise an investment of $20 billion in India in the next five years in various industrial and infrastructure development projects. India welcomes Chinese enterprises to participate in its manufacturing and infrastructure projects.

The Centre had informed Rajya Sabha in November 2016 that to invite Chinese investment in India, an MoU was inked between India and China in June 2014 on 'Cooperation on Industrial Parks in India' with a view to provide a platform for cluster-type development of the enterprises of both countries.

In this regard, subsequently, MoUs were signed by Indian State Government Agencies and Chinese investors. These include the MoU between Maharashtra government and BeiqiFoton Motors, China for Auto Industrial

Park in Pune, the MoU between Industrial Extension Bureau (iNDEXTb), Gujarat government and China Development Bank Corporation for supporting the setting up of Industrial Parks in Gujarat, as well as the MoU between iNDEXTb and China Small and Medium Enterprises (Chengdu) Investment Limited to set-up multi-purpose Chinese Industrial Park in Gujarat.

Besides, there is an MoU between HSIIDC (Haryana Government) and Dalian Wanda Group to develop an integrated Entertainment Park-cum-Industrial township in Haryana as well as an MoU between HSIIDC and China Fortune Land Development to set up an Industrial Park in Haryana.
GST hike divides auto manufacturers
With the Goods and Services Tax (GST) Council taking the "middle path" in increasing cess on mid-size cars by 2%, on luxury cars by 5% and on SUVs by 7%, the automobile industry is divided over the impact of the move on the sector, coming as it does in the middle of the festive season.

The Council did not go for across-the-board increase in cess to 25%. The hike in cess will bring car prices to almost pre-GST levels, so it will be a no-loss, no-gain situation.

While the price reduction in mid-size cars due to GST implementation will be almost nullified with the increase in cess, SUVs will be slightly better off with an advantage of about 3% from pre-GST levels, whereas the benefit for luxury cars will be marginal.

The Council had very thoughtfully not raised the cess to the maximum level that had been enabled by the ordinance, and restored pre-GST relative excise duty differentials between various categories of vehicles.
GDP of India in the slowest pace
As per the estimates released by the Central Statistics Office on August 31, India's economy, as measured by the gross domestic product (GDP), grew by 5.7% in the first quarter of 2017-18, compared with 7.9% in the same quarter a year ago.

This is the slowest pace of GDP growth recorded since the NDA came to power in May 2014. India grew by a strong 9.1% in the quarter from January 2016 to March 2016. The growth recorded in the subsequent quarters was 7.9%, 7.5%, 7% and 6.1%.

So this is the fifth quarter in a row that the growth has slipped, with the pace of decline picking up momentum in the last two quarters.

The gross value-added (GVA) in the economy grew at 5.6% between April and June, the same pace as the previous quarter, but sharply lower than the 7.6% growth in the first quarter of the last year.

Most economists didn't expect a sharp uptick from the tepid 6.1% mark recorded in the January-March quarter this year, yet few anticipated a decline to 5.7%. The government has sought to divorce the growth trend from the impact of its decision to demonetise Rs. 500 and Rs. 1,000 currency notes last November, but economists believe the lingering effects continue to jolt sentiment.

Growth, the government has argued, had begun to slow even before the move to suck out 86% of the currency notes in circulation. With the currency levels reverting close to the pre-demonetisation 'normal,' the bigger disruptive force affecting the latest GDP growth numbers was the introduction of the Goods and Service Tax (GST) from July 1.

Businesses nationwide whittled down production in the April-June quarter and focussed on off-loading the existing stock, thanks to the uncertainty about how the new indirect tax regime will treat earlier tax credits on inputs.

This also impacted GVA numbers, as a lot of the inventory that was off-loaded had already been accounted for in the value of production in the earlier periods.

Moreover, while firms saw a healthy growth in sales, their margins were dented by a spurt in commodity prices spiking input costs. Lastly, wholesale price inflation turned negative at this time last year, so growth numbers appeared higher as a result of their statistical impact, which is no longer the case, the government has argued.

The manufacturing sector, as a sub-set of industry, led the growth tumble, expanding by just 1.2% in the quarter, compared with 5.3% in the previous quarter and 10.7% a year ago. This was the worst quarter for Indian manufacturing in five years. Overall industrial output also collapsed to 1.6% growth from 7.4% a year ago and 3.1% in the previous quarter.

The construction sector that has been the bulwark of job creation grew by just 2% (in GVA terms) as it grapples with the headwinds of a new regulatory regime (RERA), the GST and leveraged balance sheets of developers. Mining GVA shrank by 0.7%, compared with a 0.9% dip last year.

The services sector offered some semblance of stability, growing at 8.7% compared with 9% in the same quarter last year, but a deeper look suggests this was driven by a rise in trade-related GVA to 11.1% (from 8.9%).

This is proof of sorts that the destocking in manufacturing was reflected in higher volumes (often discount-driven) in the trade segment. Agriculture GVA dipped from 2.5% in the first quarter of last year to 2.3%, though crop output increased healthily. Low prices for crops apart, it appears that other agriculture-related activities, such as animal husbandry, have dragged down the sector's overall growth.

The Statistics Office hopes that growth will rebound in the current quarter, "subject to how efficiently companies adapt themselves to the GST."

The new NITI Aayog Vice-Chairman Rajiv Kumar said growth would return to 7%-7.5% between July and September.

Analysts are reworking their growth hopes for the full year rating agency Crisil has curbed it from 7.4% to 7%. Finance Minister Arun Jaitley has admitted that the latest growth print poses a challenge for the economy and the government needs to work harder in the coming quarters to spruce up growth. Watch out for policy actions to spur investment and job creation.
::SCIENCE AND TECHNOLOGY::
Cement material that is eco friendly being tested for use in industry
A research collaboration between India and Switzerland on a new cement material that can reduce carbon dioxide emissions in the manufacturing process is set to take off into implementation.

The construction sector is a major contributor to global carbon dioxide emissions. Though this is known, it appears difficult to reduce the scale of construction, especially as it is a route to establishing more equitable conditions in developing countries like India. One way of mitigating the emissions factor is the use of Limestone Calcined Clay Cement or the LC3 technology.

Traditional processes that manufacture cement from clinker-limestone or clinker-calcined clay combinations are well known. LC3 effects a synergy between these processes.

The combination of the new method and the material properties effectively reduces carbon dioxide emissions by 30% as compared to the traditional way of manufacturing cement.

Research on this evolved over ten years in Karen Scrivener's lab at the Swiss Federal Institute of Technology (EPFL) at Lausanne, in Switzerland. Partners in this research are IIT Delhi, IIT Madras and TARA (Technology and Action for Rural Development).

In manufacturing portland cement, limestone and materials like clay are heated together in huge kilns to high temperatures (approximately 1,450 degrees C), so that they fuse without melting to give clinker.

This is the most CO2-intensive part of the whole process. The carbon dioxide comes both from the burning of the fuel needed to create that temperature and due to the breakdown of limestone into calcium oxide and carbon dioxide. The latter part accounts for 60% of the CO2 emissions in manufacture of cement.

The best thing to do would be to substitute CO2-intensive clinker with a different material.

In India, fly ash a waste produced in the burning of coal for producing energy is used in the manufacture of blended cement. However this is used in a lower proportions and only where available; therefore, for effectively reducing emissions, more clinker is to be substituted with calcined clay and limestone. This reduces emissions by 30% with respect to portland cement.
Skin bacterium with antimicrobial activity discovered
Bacteria found on the skin are known to harbour a large repertoire of antimicrobial agents. A new bacterial strain of Staphylococcus capitis identified by scientists at Delhi's CSIR-Institute of Genomics and Integrative Biology (CSIR-IGIB) has a strong antibacterial activity against Gram-positive bacteria, including Staphylococcus aureus.

The work reconfirms the growing understanding that bacteria found on the skin may be a "rich source" of novel antimicrobial molecules. The results of the study were published in the journal Scientific Reports.

The bacteria were isolated from the skin surface of a healthy human foot; the bacteria are specifically found near the toes. Different bacteria are found in different niches of the skin. For instance, bacteria found in the arm pit are different from those found on the feet.

The antimicrobial activity helps the bacteria to secure their niche environment by preventing other bacteria, including pathogenic bacteria, from colonising.

The new bacterial strain identified are closely related and can thrive in the same niche on the skin. And this drives the competition between the two bacteria.

Staphylococci are common colonisers of human skin and the third largest genera identified in human skin microbiome.

In all, the new strain of bacteria has nine antimicrobial peptides, of which two (epidermicin and gallidermin) have already been characterised from other bacteria. The other seven new peptides have been found to have antimicrobial activity.

To be absolutely certain about the antimicrobial activity that we see is from the peptides and not from any other biological material as a result of contamination, we tested the seven purified synthetic peptides against a set of select microbes. It was a qualitative test.

Synthetic peptides with sequences identical to the natural ones isolated from the bacteria were synthesised by the team. The synthetic peptides were found to possess antibacterial activity, opening the window to developing new antimicrobial compounds.

Since the purified synthetic peptides are inhibitory, it not only confirms the antimicrobial activity but also shows that the synthetic peptides can be used directly without actually culturing the microbes.

The researchers would next study the minimum inhibitory concentration (the lowest concentration of an antimicrobial that will inhibit the visible growth of a microorganism) required by the peptides and test it against more species of Gram-positive bacteria and specifically against drug-resistant S. aureus.

Besides isolating the peptides responsible for antimicrobial activity, the researchers have identified the genes responsible for other functions such as adhesion, acid stress tolerance, colonisation and survival on human skin.

The team has been isolating bacteria from the skin and studying their roles. The researchers had earlier reported another bacteria from human skin with antimicrobial activity. And in a paper published in May this year, they reported the discovery of a new Gram-positive bacterial genus — Auricoccusindicus. The bacteria were isolated from the external ear lobe of a healthy individual.
Does total darkness or light alter the body clock?
Will living in complete darkness or being in light for 24 hours for the rest of our lives affect our circadian rhythm (sleep–wake cycles)? Probably not, at least in the case of fruit flies.

Experiments carried out on 330 generations of drosophila (fruit flies) confirmed that circadian rhythm was persistent in flies that were kept in complete darkness or complete light 24 hours a day for over 19 years. This may be due to the intrinsic value of the body's time-keeping system in coordinating our internal physiological functions.

This was the finding of a study by a group of scientists led by Prof. Vijay Kumar Sharma at the Chronobiology Lab (where study of the biological clock is carried out) at Jawaharlal Nehru Centre for Advanced Scientific Research (JNCASR), Bengaluru; Prof. Sharma passed away last year after the completion of the work.

Using drosophila activity monitors, locomotor activity patterns of flies kept in the three different conditions (total darkness, total light, and normal day–night conditions) were monitored.

Interestingly, the flies maintained in complete darkness exhibited a relatively better sleep–wake cycle than the ones in complete light. The control group had cues of day and night in the form of 12 hours of light and 12 hours of darkness, while the flies in the other two groups which were not exposed to such cues also maintained circadian rhythms over several hundred generations.

The results of the study help dispel the notion that continuous darkness may regress the body's biological clock and show that absence of light may have caused the evolution of a more robust clock in flies. The results were recently published in Chronobiology International.

The time at which flies emerge as adults from pupae and the time when adult females laid eggs were examined, since appropriate timing of adult emergence and oviposition (egg-laying) behaviours are thought to be important for survival and reproduction.

For the experiment, a few flies taken from the group kept in complete darkness and complete light were exposed to normal cycle of 12 hours of light and 12 hours of darkness. They found that flies which were taken from the group exposed to complete light tend to lay eggs at the time of dusk when exposed to normal light and darkness cycle. On the other hand, flies taken from the group exposed to complete darkness tend to lay eggs at about noon.

In nature, a high temperature during the day may increase the risk of drying of eggs, which may be the reason why egg-laying mostly takes place in the evenings. Since the flies in complete darkness have not been exposed to light for several generations they may have slowly lost this ability of restricting egg-laying to the evenings.

The most interesting find of the study was that the circadian rhythm did not degenerate over 19 years. Complete regression of the circadian clock is very unlikely because of the several other functions of the core circadian genes.
::ENVIRONMENT::
Borders don' faze these tigers
Over a decade, at least 11 tigers moved from India into Nepal' protected areas through the Terai, a landscape comprising agricultural areas and protected forest-grasslands in the Himalayan foothills. This reaffirms that tiger conservation requires not just protected areas but corridors too especially across large landscapes to ensure habitat connectivity and in turn, population growth.

With protected areas becoming isolated due to habitat loss and conversion, large mammals including tigers have to now traverse human-dominated areas to disperse to new territories.

North India' Terai Arc Landscape, which shares a 700-km border with Nepal, spreads across more than 50,000 sq. km and has one of the world's highest human population densities.

Apart from agricultural fields and rural settlements, it also comprises 16 protected areas (five in Nepal and 11 in India) and six major trans-boundary corridors which connect Indian wild habitats with Nepal's.

To test how effectively these corridors aid tiger movement, scientists from WWF-India and WWF-Nepal camera-trapped tigers for 38,319 days in the protected areas, covering an area of more than 9,000 sq. km in multiple surveys between 2005 and 2016.

Identifying individual tigers, they found that at least 11 tigers used these corridors to re-colonise Nepal, thus aiding the recovery of tiger populations which had declined drastically in the mid 2000s due to severe poaching pressures.

Growth rates of the tiger population in Nepal's Suklaphanta and Bardia national parks show that tiger numbers were far higher than would have been possible from just reproduction by the existing population. Connecting the locations that individual tigers were photographed from, the team found that one tiger had moved across an area of 248 sq. km, as opposed to the usual 20-sq. km-area in the Terai.

Planned development near the protected areas including two roads could endanger the already-fragmented habitat. They suggest that the tiger populations need to be conserved as a 'metapopulation', that is, populations that are physically separate, but interact with one another as animals migrate between them, helping populations persist over the years.
Hector's dolphin numbers fall by 80%
The populations of the Hector's dolphin, living only in the waters off New Zealand, has decreased by 80% in the last 50 years.

A large number of these dolphins die from being trapped in fishing nets as they are unable to swim up to the ocean surface to breath. It is estimated that there are currently only some 9,000 Hector's dolphins left, after a drastic decrease from the 50,000 estimated in 1970.
Jackals are opportunistic survivors
Folklore has it that jackals are opportunistic survivors. Now scientists have discovered that, true to stereotype, jackals living on a remote island with no freshwater have managed an extreme adaptation to survive in the marine ecosystem: they meet their body's metabolic requirement for water by licking dew off leaves first thing every morning.

Pirotan is the eastern most island in the Marine National Park in Gujarat's Jamnagar district. Located 12 km from the coast in the Gulf of Kutch, Pirotan covers an area of around 3 sq km and is partly submerged during high tide. According to a paper published recently in the Journal of Threatened Taxa , the island is home to about 45 jackals.

A team of scientists had landed on the island to study coral transplantation. While researching corals, they got a chance to observe the behaviour of jackals. They were surprised to see jackals licking dew in the morning. In the night, too, they could hear some sounds which later established as jackals munching crabs. The jackals are the only large mammals on this isolated island amidst marine fish, crabs and corals.

A scat analysis of the animals revealed that crabs made up 89.5% of the jackals' diet. This was another crucial adaptation, as it served as a supplementary water source.

Although the island has no natural water source, the jackals have adapted to manage their water needs from the crab meat. It was also observed that jackals lick dew on the leaves in the morning just after sun rise.