Current Affairs for BANK, IBPS Exams 11 September 2017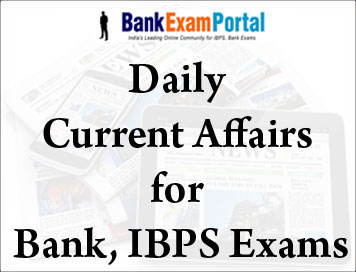 Current Affairs for BANK, IBPS Exams 11 September 2017
::National::
Women's tech park at Harohalli
The women's tech park at Harohalli,Bengaluru which was first announced during the Invest Karnataka Meeting in February 2016, is expected to be inaugurated by November. From automobile sector to food processing and garments, the park is, in its core, a display of the power of women in the industry.

The park in Harohalli, which will accommodate at least 90 entrepreneurs, may open by November

Currently, nearly 20 employees work out of a 1,100 sq. ft workspace churning out sugar confectioneries that are sold across India and even exported.

From automobile sector to food processing and garments, the park is, in its core, a display of the power of women in the industry.

The tech park was first announced during the Invest Karnataka Meeting in February 2016, with the hope of completing it within the end of the year.

However, Karnataka Industrial Areas Development Board (KIADB) officials said land acquisition was a hurdle.

While 300 acres in Harohalli Phase III on the outskirts of the city have been earmarked for the women's tech park, nearly 106 acres have been developed so far. Layout formation, roads and other infrastructure work are nearing completion.

From designing crèches and playschools to incorporating a natural lake to add aesthetics, the designing of the industrial area involved a lot of feedback from women entrepreneurs themselves
while the 5% reservation policy in 158 industrial areas across the State continues, the women-only park will be crucial to enhance networking among women entrepreneurs.
Xafecopy Trojan' new malware alert
A new malware 'Xafecopy Trojan' has been detected in India which would steal money through mobile phones, cyber security firm Kaspersky said.

Around 40% of target of the malware had been detected in India. Xafecopy Trojan is disguised as apps like BatteryMaster, and secretly loads malicious code on the phone.
All women crew to circumnavigate the world
Skippered by Lt. Cdr. Vartika Joshi, Rishikesh, Uttarakhand, the all-women team has Lt. Cdr. Pratibha Jamwal of Kullu, Himachal Pradesh; Lt. Cdr. Swathi P. of Visakhapatnam, Andhra Pradesh; Lt. Aishwarya

Boddapati of Hyderabad, Telangana; Lt. Sh Vijaya Devi of Manipur and Lt. Payal Gupta of Uttarakhand as crew members.

Among other things, the crew will collate and update Meteorological/Ocean/Wave data on a daily basis for subsequent analysis by research and development organisations. They will also monitor and report marine pollution on the high seas.

The first Indian solo circumnavigation was undertaken by Capt. Dilip Donde, SC (Retd) from August 19, 2009 to May 19, 2010 on board the Indian built vessel, INSV Mhadei.

The first Indian non-stop solo circumnavigation was undertaken by Cdr. Abhilash Tomy, KC from November 1, 2012 to March 31, 2013.

Defence Minister Nirmala Sitharaman hailed the global circumnavigation being attempted by an all-women Indian Navy crew of 'Navika Sagar Parikrama.'

'Navika Sagar Parikrama,' perhaps the first-ever attempt by an all-women crew to circumnavigate the globe, will have stopovers at four ports Fremantle (Australia), Lyttleton (New Zealand), Port Stanley (Falklands) and Cape town (South Africa) for replenishments and repairs. It will return to Goa in April next year.

The crew has sailed approximately 20,000 Nm on board INSV Mhadei and Tarini as part of training, which included two expeditions to Mauritius (in 2016 and 2017) and a voyage from Goa to Cape Town in December 2016.

The project is seen as essential for promoting ocean sailing activities in the Navy, while highlighting Government of India's thrust for Nari Shakti.

The Indian Navy said the project would help to discard societal attitudes and mind-set towards women.

Among other things, the crew will collate and update Meteorological/ Ocean/ Wave data on a daily basis for subsequent analysis by research and development organisations. They will also monitor and report marine pollution on the high seas.
Refugees challenging Article 35A
Some refugees from West Pakistan, who had migrated to India during Partition, have moved the Supreme Court challenging Article 35A of the Constitution relating to special rights and privileges of permanent residents of Jammu and Kashmir.

The petition said nearly 3 lakh refugees had arrived from West Pakistan, but those settled in Jammu and Kashmir had been denied the rights guaranteed under Article 35A.

A Bench of Chief Justice Dipak Misra and Justices A.M. Khanwilkar and D.Y. Chandrachud tagged the plea of the refugees, who are settled in Kathua district of Jammu and Kashmir, with similar matters pending before it.

Earlier, a Kashmiri Pandit woman, Charu Wali Khanna, had approached the court challenging the provision.

Petitioners Kali Das, his son Sanjay Kumar and one other, in their plea, said they were raising issues seeking conferment of basic natural and human rights.
Bonda Tribes migration
The Bonda Development Agency (BDA) has started an inquiry and survey in the remote Bonda-inhabited villages in Malkangiri district of Odisha following reports that these primitive tribals are migrating to other States in search of employment and that some of their women are being sexually exploited.

A minor Bonda girl recently lodged a complaint with the Mudulipada police station, alleging that a man had lured her through promises and made her pregnant. She is seven months pregnant now.

According to media reports, another minor Bonda girl has also come up with a similar allegation but has not approached the police.

As allegations are rife about mass migration of Bonda tribals from Odisha in search of livelihood, the administration has taken the issue seriously.

Officials of the BDA have started an on-the-spot inquiry and survey relating to migration and alleged sexual harassment of Bonda women outside the State.

Some Bondas undertake seasonal migration after the end of the kharif season and return by Durga Puja to start agricultural work.

Through the on-the-spot inquiry and enumeration, the BDA plans to prepare a proper data base about Bonda migration and realise the reasons behind it.

Bondas are considered to be one of most primitive tribes in the world.

As per an official survey in 2015, around 8,000 Bonda tribals live in 32 villages of four panchayats under Khairaput block. Their villages are located in remote and isolated hilly region north-west of the Machhkund river. Their habitat in Khairaput block is called the Bonda valley.
::INDIA AND WORLD::
India-U.S. C17 deal
India is in talks with the U.S. for buying another Boeing C-17 Globemaster transport aircraft to be added to its fleet of 10.

Since induction in 2013, the aircraft has become the mainstay of India's humanitarian assistance and disaster relief efforts.

The validity of the Letter of Acceptance for the sale expires in mid-October and India has to conclude the deal before that or ask the U.S. for an extension.

The aircraft, along with associated equipment, technical support and warranty, is estimated to cost $366.2 million.

The aircraft will be handed over within a month of the contract having been signed after some routine checks and maintenance. The handover will be done in the U.S. itself, and it will be flown to India by Indian pilots.

The Defence Acquisition Council (DAC) gave its approval for the purchase in December last.

The proposed sale will improve India's capability to meet the current and future strategic airlift requirements. India lies in a region prone to natural disasters and will use the additional capability [aircraft] for humanitarian assistance and disaster relief.

In 2011, India purchased 10 C-17s under the Foreign Military Sales programme worth $4.1 billion, which had a follow-on clause for six more aircraft.

However, the delay in decision-making in the Defence Ministry meant the IAF missed out on the opportunity. The last C-17 aircraft left Boeing's Long Beach plant in California in 2015.

While the C-17 assembly line was shut down, Boeing made 10 additional aircraft without any order and offered them to all existing customers, including India. New Delhi's silence meant nine pieces were picked by the existing users and one is left with Boeing.
INDIA-BANGLADESH
After Bangladesh High Commissioner Syed Muazzem Ali had sought a meeting with Mr. Jaishankar, the MEA issued another statement, clarifying that India "remains deeply concerned" about the situation in Rakhine and "the outflow of refugees from that region," the first such reference since the outbreak of violence in August.

The MEA did not reply to requests for a comment on the issue, but Indian and Bangladeshi officials acknowledged the shift in the Indian position, which they said was "welcomed" and "well received" in Dhaka.

Bangladesh and India both see the refugee problem as a national security concern given Rohingya terror groups that are operating. That is why Bangladesh conveyed the need for India to join in putting pressure on the Myanmar government to stem the flow.

Former Bangladesh High Commissioner to India Tariq Karim also warned that "the Rohingya issue could throw a spanner in the India-Bangladesh relationship, as PM Sheikh Hasina is under severe pressure on the issue of the violence in Myanmar that has forced out Rohingya."

India's support to Myanmar is seen as encouraging the Burmese security forces to crack down more on the Rohingya, causing a humanitarian crisis.

Experts say India's bid to strengthen ties with Myanmar comes amid China's growing presence in that Country.

India's stand to support Suu Kyi is also in line with our tough stand on terrorism, as well as on refusing to interfere in Myanmar's domestic politics.

India's shift in position on the Myanmar issue, where it expressed concerns about the outflow of Rohingya refugees for the first time in recent months, was prompted by a series of requests from the Bangladesh government "at the highest levels".
::INTERNATIONAL::
Prominent historian of Afghan culture dead
American historian Nancy Hatch Dupree, who dedicated most of her life to preserving Afghanistan's heritage, died in a Kabul hospital aged 89.

Ms. Dupree first arrived in the Afghan capital in 1962 as the wife of a diplomat.

Over the next five decades she travelled throughout the country, wrote five guidebooks and documented the war-torn nation's past.

Ms. Dupree and her husband lived in Afghanistan until the late 1970s. Her husband died in 1989 and she moved back to Afghanistan after the U.S.-led invasion that toppled the ruling Taliban in 2001.

With the help of the new government, Ms. Dupree created a centre to preserve the couple's priceless collection of records for researchers.

The Afghanistan Center houses more than 1,00,000 documents in the country's two official languages, Dari and Pashto, as well as English and other European languages.

The centre also provides reading materials to hundreds of libraries around the country, a reflection of Ms. Dupree's belief that knowledge was key to Afghanistan's recovery from decades of conflict.
China follows the route of France and Britain
China is joining France and Britain in announcing plans to end sales of gasoline and diesel cars.

China's Industry Ministry is developing a timetable to end production and sale of traditional fuel cars and will promote development of electric technology,

The reports gave no possible target date, but Beijing is stepping up pressure on automakers to accelerate development of electrics.

China is the biggest auto market by number of vehicles sold, giving any policy changes outsize importance for the global industry.

France and Britain announced in July that they will stop sales of gasoline and diesel automobiles by 2040 as part of efforts to reduce pollution and carbon emissions that contribute to global warming.
::ECONOMY::
SBI report- Fall in GDP is structural
India's GDP growth was expected to decline in the first quarter of the current fiscal, but the "free fall" in the numbers shows that the problem is more structural than transient.

India's economic growth slipped to a three-year low of 5.7% cent in April-June, underscoring the disruptions caused by uncertainty related to the GST roll-out amid a slowdown in manufacturing activities.

According to the report, the negative impact of the Goods and Services Tax (GST) on growth has been "majorly emphasised".

Though there has been a lot of talk about manufacturing destocking ahead of GST and its impact on GDP, a significant destocking in both consumer as well as investment intensive sectors was already taking pace in 2016-17.

With fiscal deficit touching 92.4% of the budget estimate by the end of July, the government may cut expenditure to meet the 3.2% target, the report stated.

In absolute terms, fiscal deficit — the difference between expenditure and revenue — was Rs. 5.04 trillion of budget estimate till July, against 73.7% in the same period last fiscal.

The report was quick to point out that with uncertainties involving GST and monetary policy support to growth not forthcoming, it would not be prudent for the government to reduce spending as other growth drivers are missing.
Manufacturing sector giving major thrust to economic growth
India's manufacturing sector gives a major thrust to economic growth, contributing to the GDP, creating employment opportunities and attracting foreign investments.

The Industrial Policy Resolution of 1956, known as the economic constitution of India, laid down the structure of the manufacturing sector. Subsequent policies have continued to give importance to the sector.

The share of manufacturing in the GDP was 16% at the beginning of the 12th Five Year Plan. While the service sector's share is predominant, it is pertinent to note that the manufacturing sector is a major consumer of services.

Till recently, the manufacturing sector was burdened with multiple indirect taxes viz. central excise, service tax and VAT.

In addition, non-availability of tax credit for central sales tax increased the cost. Introduction of GST, in the backdrop of the 'Make in India' initiative, does away with multi-layered taxation.

For major sectors, tax rates are mostly in line with the present effective tax incidence. Sectors such as consumer durables, construction material and FMCG, GST rates have seen a marginal difference.

State-border check posts, established to scrutinise documents and location-based compliance, adversely impacted the overall production and logistics time, which reduced the efficiency of Indian manufacturers.

These check-posts have been abolished with the introduction of GST. The new tax regime will unify the Indian market and help smooth the flow of goods within the country. Prior to GST, the inter-state sale was subjected to 2% CST without input credit, whereas GST on inter-state supply is available for input credit. This would lead to removal of an extra level of warehousing in the supply chain resulting in cost benefits.

GST contemplates input credit of tax on supply of goods or services. The GST Act provides a list of services for which input credit is not available. Thus the system intends to provide seamless input credit. This welcome change helps businesses plan well on product pricing and estimating cash flows.

Anti-Profiteering rules mandate that any reduction in the tax rate or the benefit of input tax credit needs to be passed on by way of commensurate price reduction. Standing committees, both at the Central and State levels, will examine complaints and refer cases for investigation based on merit.

The authority, which has a sunset period of two years, has powers to debar an assessee from conducting business, to levy penalty, or to enforce refund of proportionate price reduction.

The GST system excludes certain petroleum products. Natural gas, a clean fuel, is one of them. Certain industries which use them as key input were allowed input credit under the erstwhile VAT system.

Keeping natural gas out of the GST system would increase the production cost. The GST Council, which is considering this aspect, has to take quick, positive action in this regard to avoid cost increases.

Another important issue is how exemptions and incentives granted under the erstwhile excise and VAT system would be continued under the GST regime. Central and State governments are yet to come out with a concrete proposal. It has to be ensured that what was intended, while granting the incentive, is continued under the GST system.

The GST System contemplates seamless input credit. Administrative machinery has to ensure this is implemented in letter and spirit. The GST Council has to constantly watch developments and give suitable directions to achieving the objective of seamless input credit.

The Council should also ensure that actions taken by the anti-profiteering committee are genuine and not arbitrary. This will boost the confidence of the industry in the GST system and embolden them to concentrate on business development.

The Council has to take a pragmatic view in making changes to the tax rate for certain goods and services about which select industries are concerned.

Both the Central and State governments have to be congratulated for implementing the GST system in a smooth manner, without disrupting businesses. The manufacturing sector has always extended its support to the initiatives taken by the Government. Now too, this sector has accepted the GST system and is working well with the governments.
After Jio now it is Bharti Airtel offering low cost smartphone
India's largest telecom operator Bharti Airtel is in talks with multiple handset makers to bring a 4G smartphone for a price as low as Rs. 2,500—Rs. 2,700 to take on Reliance Jio.

While Mukesh Ambani led Jio has announced plans to offer Internet—enabled feature phone for a refundable deposit of Rs. 1,500, Airtel is placing its bet on a full fledged smartphone as it believes people would be ready to shell out a little more to get a loaded handset.

A source familiar with the development said the new 4G smartphone — that will debut around Diwali — will come bundled with Airtel's 4G connection and "attractive" data and voice plan to woo mass market customers.

The planned dual SIM 4G smartphone will sport a four-inch display, dual camera, VoLTE calling and a longer battery life. The Android handset will come with 1 GB RAM, said the source who wished not to be named.

Reliance Jio had, in July, announced that formal bookings for Jio Phone would open on August 24, while the phone itself is expected to be available from September. While details such as the name of the handset makers that Airtel is negotiating with and the exact offers on anvil are still under the wraps, it is learnt that the Sunil Mittal company will co—promote the 4G smartphone with the manufacturers.

State—owned BSNL is betting on national roll-out of 4G VoLTE services, even as it begins preparatory work on 5G to stay future-ready, a top official has said.
::SCIENCE AND TECHNOLOGY::
Flower colour can be altered by Gene-Editing
In a world-first, Japanese scientists have used the CRISPR gene-editing tool to change the colour of ornamental morning glory flowers from violet to white by tweaking a single gene.

Japanese morning glory, or Asagao, was chosen for this study as it is one of two traditional horticultural model plants in the National BioResource Project in Japan (NBRP).

Extensive genetic studies of this plant have already been performed, its genome sequenced and DNA transfer methods established.

As public concern with genetic technologies such as CRISPR/Cas9 is currently a social issue in Japan, studies using this popular and widely-grown plant may help to educate the public on this topic, researchers said.

Researchers from the University of Tsukuba, the National Agriculture and Food Research Organization (NARO) and Yokohama City University in Japan targeted a single gene DFR-B, encoding an enzyme responsible for the colour of the plant's stems, leaves and flowers.

Two other very closely related genes (DFR-A and DRF-C) sit side-by-side, next to DFR-B. Therefore, the challenge was to specifically and accurately target the DFR-B gene without altering the other genes. The CRISPR/Cas9 system was used as it is currently the most precise method of gene editing.

The CRISPR/Cas9 system is based on a bacterial defence mechanism.

It is composed of two molecules that alter the DNA sequence. Cas9, an enzyme, cuts the two strands of DNA in a precise location so that DNA can be added or removed.

Cas9 is guided to the correct location by gRNA, or guide RNA, a small piece of RNA that has been designed to be complementary to the target DNA sequence.

Cas9 cuts the two strands of DNA at the target location, allowing DNA to be removed and/or added.

This technology is also extremely useful in confirming the function of genes.
Wave structure of Saturn rings revealed by Cassini
NASA's Cassini spacecraft has beamed back a stunning close-up image revealing the wave structure of Saturn's rings.

The image was taken on June 4 with the Cassini spacecraft narrow-angle camera. It was acquired on the sunlit side of the rings from a distance of 76,000 km away from the area picture

The spacecraft currently is closing in on the end of its epic 20-year-long journey in space, as it prepares to take the final plunge into the atmosphere of Saturn.

A gravitational kick in April from Saturn's moon Titan placed the two-and-a-half tonne space probe on its path for impending destruction on September 15. Resulting from the same process that creates spiral galaxies, spiral density waves in Saturn's rings are much more tightly wound

In this case, every second wave crest is actually the same spiral arm which has encircled the entire planet multiple times.The wave, known as the Janus 2:1 spiral density wave, is the only major density wave visible in Saturn's B ring, NASA said. Most of the B ring is characterised by structures that dominate the areas where density waves might otherwise occur, but this innermost portion of the B ring is different.
Organic waste as a substitute for petroleum
Scientists have developed a way to extract sugars from wood chips and organic forest waste, which may serve as a cheaper substitute for petroleum a raw material for fuel.

The key to the technology is the use of a concentrated solution of an inorganic salt in the presence of a small amount of mineral acid, researchers said.

The team integrated the process with another step, which converts the sugars to furans and enables the salt solution to be recycled. Furans are compounds used to make speciality chemicals.