Current Affairs for BANK, IBPS Exams 12 September 2017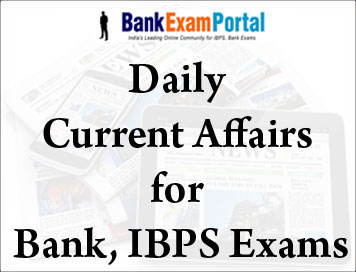 Current Affairs for BANK, IBPS Exams 12 September 2017
::National::
Tussle regarding regulating drones
Tussle between aircraft safety versus security and privacy

The Ministry of Civil Aviation (MoCA) has raised a few objections to the Home Ministry's bid to frame a new law to regulate unmanned aircraft systems (UAS), loosely referred to as drones.

The Director-General of Civil Aviation (DGCA) has told the Home Ministry that licensing and safety of all aircraft manned or unmanned was their domain.

Recently, the Home Ministry circulated a draft law to regulate the low-flying objects for inter-ministerial consultations. The regulations were circulated more than a year after the DGCA put out draft guidelines for obtaining unique identification numbers for citizens to use drones in the public domain.

Operations at the IGI airport in Delhi were held up for two hours after an Air Asia pilot spotted a low-flying object while landing.

Civil aviation officials informed the Home Ministry that as per International Civil Aviation Organisation guidelines, aircraft, whether manned or unmanned, does not affect its status as an aircraft and the safety oversight is the responsibility of the DGCA.

A senior Home Ministry official said the need for a new law arose after it received representations from a couple of industrial houses who wanted to use UAVs to monitor oil pipelines and coalfields.

The DGCA has the capacity to detect aircraft of a particular size and [which] fly at a certain altitude. It has radars to detect their presence. The unmanned objects, if they fly low, cannot be detected by any radar. It has security and privacy issues.
Maha Pushkaram
All is set for Maha Pushkaram in the Cauvery when thousands of devotees are expected to congregate at the focal point of Thula Kattam at Mayiladuthurai in Nagapattinam district.

J&K's special status will be respected by Centre

As both Peoples Democratic Party (PDP) and National Conference (NC) raised the issue of J&K's special status during meetings with Union Home Minister Rajnath Singh, the latter said the Centre will not go against the sentiments of the people on Article 35A, which grants special rights to locals on property and jobs.

Article 35A has been challenged through three petitions in the Supreme Court, which is again hearing them in November.

The National Investigation Agency, which detained a number of separatist leaders since June, was acting according to the law of the land.This should not deter those who want to talk to the government.

Referring to a "permanent solution of Kashmir," Mr. Singh said 5 Cs — compassion, communication, coexistence, confidence-building, and consistency — would be its basis.

Minors must be dealt with under the juvenile justice system and not be put in jails. They must be properly counselled.
Remembering Swami Vivekananda
Paying tributes to Swami Vivekananda on the anniversary of his speech at the World Congress of Religions in Chicago, Prime Minister Narendra Modi juxtaposed it with the 9/11 terror attack in the U.S., saying the World

Trade Center tragedy would not have taken place had the message of love and brotherhood of the speech been understood.

The Prime Minister was speaking at a function attended by student groups in Vigyan Bhavan to mark the anniversary of Vivekananda's speech in Chicago in 1893.

"Before 2001, the world did not know the significance of 9/11. It is our fault that we forgot the significance of 'our 9/11'. Had we remembered it, there would have been no 9/11 in 2001," he said.

Swami Vivekananda never tired of showcasing India's culture, talents and qualities. More than being in search of a guru, Swami Vivekananda was in search of the truth."

Referring to Vivekananda's teachings, the Prime Minister highlighted the fact that the saint was never afraid to speak his mind and prioritised public service over ritualism.

Mr. Modi spoke of his government's sanitation drive, Swachh Bharat, as an example of ways in which public service and patriotism could be demonstrated.

"We have to build shauchalaya [toilets] before devalaya[temples]," he added.

Mr. Modi said that Vivekananda was all for innovation and experimentation, and university campuses were the best sites for these.

"There is no life without creativity. Let our creativity also strengthen our nation and fulfil the aspirations of our people," the Prime Minister added.
Blue Whale challenge
The Supreme Court agreed to hear a petition for an immediate directive to the government to ban Blue Whale, an online game which may be behind the deaths or attempted suicides of teenagers and young adults hooked to it.

A Bench, led by the Chief Justice of India, heard an urgent mention by advocate C.R. Jaya Sukin, representing another lawyer N.S. Ponnaiah, who urged the government to take immediate measures to spread awareness of the dangers of the game and curb its availability online.

Mr. Sukin argued that the government had not taken sufficient steps even after the cases of self-inflicted injuries and suicides increased.

The game had spread across the cities, enticing even school students. The game "goads young people into killing themselves. It encourages people to take part in increasingly dangerous dares that culminate in instructions to kill themselves.
Nirmala Sitharaman in high profile panels
In another step-up for Defence Minister Nirmala Sitharaman, who was elevated in the recent Cabinet restructuring exercise, the government has not only included her in the high-profile Cabinet Committee on Security but also made her a full-time member of the Cabinet Committees on Economic and Political Affairs.

Ms. Sitharaman, who held Independent charge of the Ministry of Commerce and Industry with a Minister of State rank, was earlier only a special invitee to the Cabinet Committee on Economic Affairs (CCEA).

Piyush Goyal and Dharmendra Pradhan have also been upgraded from special invitees to full-time members of the CCEA. Mr. Goyal, who now heads the Railway and Coal Ministries, has been inducted into the Cabinet Committee on Political Affairs, along with Ms. Sitharaman.

Among the newly inducted Ministers, Hardeep Singh Puri is the only one to have made the cut as a special invitee to the Cabinet Committee on Accommodation.

One notable change in the Cabinet Committees is the inclusion of Social Justice and Empowerment Minister Thawarchand Gehlot in the Cabinet Committee on Parliamentary Affairs. S.S. Ahluwalia and Mukhtar Abbas Naqvi, earlier Ministers of State for Parliamentary Affairs, have been substituted by their replacements, Vijay Goel and Arjun Ram Meghwal.
Mumbai-Ahmedabad high-speed rail project
Prime Minister Narendra Modi and his Japanese counterpart, Shinzo Abe, will lay the groundwork for the next level of collaboration during the annual summit meeting to be held in Gandhinagar.

The Ministry said the high point of the visit was likely to be the joint inauguration of the Mumbai-Ahmedabad high-speed rail project and bilateral security dialogue.

The two leaders will review the recent progress in the multifaceted cooperation between India and Japan under the framework of their 'Special Strategic and Global Partnership' and will set its future direction.

Mr. Abe begins a two-day visit on September 13 during which he and Mr. Modi will hold wide-ranging bilateral discussions covering bilateral and global issues. This will be the fourth annual summit between them.

The leaders would jointly participate in the ground-breaking ceremony for the Mumbai-Ahmedabad high-speed rail project using Japanese Shinkansen technology — also known as the bullet train project — in Gandhinagar.

Through a video-link, they will participate in the ground-breaking ceremony of the High Speed Railway Training Institute to be set up in Vadodara.

Mr. Abe will visit the memorial dedicated to Mahatma Gandhi at Dandi Kutir. However the focus of Mr.Abe's visit is likely to be the bilateral discussion on security issues, especially on North Korea and China.

India-Japan ties are at a crucial phase in a range of areas, including defence and security.

In their annual defence dialogue last week, the two countries had resolved to collaborate closely in defence production, including on dual-use technologies.
Could Hybrid electoral system be a solution
Two Congress representatives, Rajya Sabha member Vivek Tankha and former Union Minister Mukul Wasnik, argued that "majority aspirations" and the "actual will of the people" is not getting reflected in election results.

Mr. Tankha told the committee that the first-past-the-post system had worked well in the beginning because there was one-party domination (the Congress winning a plurality of the seats by securing close to a majority of the votes).

The voting percentage was also very high. But now because of a division of votes, a party with even a 20% share does not get a single seat, while a party with a 28% share an get a disproportionately large number of seats.

Whoever gets elected does not truly represent the majority aspirations. And a true democracy cannot exit without reflection of the majority aspirations.

Mr. Tankha also suggested a dual system where separate votes for a candidate and a party could be considered. This system is followed by various European countries.

From the CPI(M), Polit Bureau member S. Ramachandran Pillai pointed out that in the 2009 elections, the BJP had 18.1% votes but 116 seats in the Lok Sabha. While, in the previous elections, the Congress got 19.35% votes but only 44 seats. Parties together polling almost 50% of the votes were totally excluded. This fact has been repeatedly flagged by CPI(M) general secretary Sitaram Yechury.

The recommendations of the Law Commission's 170th and 255th report should be implemented. A mix of both first-past-the-post and proportional representation should be tried. Both the reports had suggested that 25% or 136 more seats should be added to the Lok Sabha and be filled by proportional representation.
::INDIA AND WORLD::
India - Bangladesh
Record seizure of cough syrup along border
1.16 lakh bottles of codeine-based Phensedyl syrup valued at Rs. 1.76 crore seized near Tripura

An inter-State network smuggling codeine-based cough syrup to Bangladesh has been busted by officials of the Directorate of Revenue Intelligence, resulting in the highest ever seizure of cough syrup.

About 1.16 lakh bottles of Phensedyl cough syrup valued at about Rs. 1.76 crore was seized from areas bordering Tripura.
::INTERNATIONAL::
U.S. stand towards N. Korea softens
The UN Security Council was scheduled to vote on a draft resolution imposing new sanctions on North Korea after the U.S. toned down its demands in a bid to win support from Russia and China.

Washington has led the international drive to punish Pyongyang after it detonated its sixth and most powerful nuclear device earlier this month.

The U.S. had originally pushed for a strict oil embargo, as well as a freeze on the assets of North Korean leader Kim Jong-un.

A new draft text circulated maintains an embargo on gas but would limit sales of oil to 5,00,000 barrels for three months from October 1 and 2 million barrels from January 1 for a period of 12 months

Mr. Kim would be spared from a UN blacklist that would have hit him with an assets freeze and a travel ban.

The proposed resolution, however, would slap a ban on textile exports from North Korea, but drop demands for a halt to payments of workers.

Among other concessions the new text also softens the inspection by force of ships suspected of carrying cargo prohibited by the UN and drops a proposed assets freeze on the state-owned Air Koryo airline.
Moscow unveils park with tundra, ice cave
Moscow opened a brand new park to the public just steps from the Kremlin, boasting wonders such as an ice labyrinth, despite criticism over its huge price-tag.

Zaryadye Park has replaced a gigantic Soviet-era hotel on the banks of the Moscow river, which was demolished in 2006 leaving a lot that stood empty for many years as investors and City Hall clashed over the space, valued at more than $1 billion.

The park consists of a landscape with different geobotanical "zones" including one resembling a tundra, as well as attractions like a philharmonic hall concealed under a hill with a "glass crust" roof and an ice cave with a labyrinth.

Park director Pavel Trekhleb pointed out that climate control for the park's southern plants will be provided with infrared lanterns, while fish will be supplied into the pond on a weekly basis.

Zaryadye Park is one element of the current Mayor's push to remake Moscow which has turned the city of some 12 million into a vast construction site over the past few years.

The park cost $244 million (Rs. 1,560 crore) to develop. Critics have called its pricey elements frivolous at a time when the country is trying to recover from recession.

No money in the budget to pay salaries to doctors, pensions in the provinces are miniscule, while Moscow is behaving like a fat cat wrote critic.
::ECONOMY::
Prefab construction could solve housing shortage in India
Faisal E. Kottikollon , 53, founder and chairman of the Dubai-based KEF Holdings, ranks 41 in the Forbes' Middle-East's 'Top 100 Indian Business Owners in the Arab World 2017'.

KEF Holdings' subsidiary, KEF Infra, opened a Rs. 440-crore offsite prefabrication construction factory at Krishnagiri in Tamil Nadu, which he claims is the first in India and 'one of the most advanced in the world'.

Prefab construction, driven by cutting-edge technology, could help solve the housing shortage in the country.

There is a huge opportunity for prefab construction industry right now in the country. In his view, India will need a thousand more plants soon. The central Urban Ministry is likely to give a big push for the prefab industry shortly for promoting affordable housing

It is believed prefab is the way to go to solve the housing shortage in the country. It's cheap and fast. For instance, we can build a house in just two hours, with our plug-and-play products. And we can build a school in 30 to 60 days. Meitra Hospital is the first fully prefabricated hospital in India. This is going to be the norm in the future.

101 Indira Canteens were built in Karnataka in 45 days. Now, they are building the Rs. 650-crore, 2-million-sq.ft. Lulu Mall in Lucknow. It would be completed in 21 months. The prefab contract is for about Rs. 100 crore.
Blockchain partnership with Unocoin
Post-demonetisation, India has become one of the fastest growing markets for digital currencies like bitcoin, according to Nicolas Cary, co-founder and president of Blockchain, the largest software provider for crypto-currencies in the world.

Blockchain announced a partnership with Unocoin one of the largest crypto-currency platforms in India to enter the Indian market.

While in India, Unocoin processes transactions worth more than Rs. 600 million every month for its over four lakh customers, Blockchain's global platform has upwards of 16.5 million users.

According to a recent report, 2,500 Indians are investing in bitcoin daily, which makes India one of the top contenders for becoming the largest market for cryptocurrency.

Half of the users we have in India are using the platform to make remittance payments, which are cross-border international transactions," Mr. Cary said. "It's so inconvenient today to use legacy transaction networks and legacy banks to do some basic things like send money from London to India. So, we are seeing a lot of adoption for that kind of thing as well."

"One of the things we are seeing happening in India that we are supportive of is an industry body that has been formed, where technology companies have come together to create a dialogue with the Finance Ministry," Mr. Cary said.

"It's called the Digital Assets and Blockchain Foundation India. It's establishing best practices for consumer protection and regulation in general," he said.
Ultra-thin spacecraft that can remove space debris
Scientists are developing an ultra-thin spacecraft that can remove space debris which potentially threatens satellites or astronauts by enveloping junk in the Earth's orbit and dragging it through the atmosphere, causing it to burn up.

The Brane Craft, being developed by U.S.-based Aerospace Corporation, is flexible and measures less than half the thickness of a human hair.

It has to be bullet-proof, because a five-micron diametre particle can penetrate the main structural sheet, which is only 10 microns thick.

The spacecraft's microprocessor and digital electronics are fabricated in such a way that if one component gets damaged, the others will continue to work.