Current Affairs for BANK, IBPS Exams 13 September 2017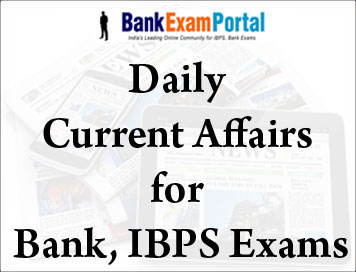 Current Affairs for BANK, IBPS Exams 13 September 2017
::National::
Hike of 1% in dearness allowance for Central government employees
The Union Cabinet approved the release of an additional 1% of dearness allowance (DA) to Central government employees and dearness relief (DR) to pensioners. This will be applicable retrospectively from July 1, 2017.

The release of the additional instalment of DA represents an increase of 1% over the existing rate of 4% of the basic pay/pension, to compensate for price rise.

According to the government, the combined impact on the exchequer on account of both DA and DR increases will be Rs. 3,068.26 crore per annum and Rs. 2045.50 crore in the financial year 2017-18 (for the eight months from July 2017 to February 2018).

This will benefit about 49.26 lakh Central government employees and 61.17 lakh pensioners

The Cabinet also approved a proposed law amendment to double the maximum gratuity payout to private sector workers from Rs. 10 lakh to Rs. 20 lakh.

The Payment of Gratuity (Amendment) Bill, 2017, will be introduced in Parliament soon to bring parity between public and private sector workers.

The government is of the view that the entitlement of gratuity should be revised for employees who are covered under the Payment of Gratuity Act, 1972.
Mandatory 'Cooling off' period to go
'Hindu couples who have mutually agreed to separate need not wait anymore for the mandatory "cooling off" period of six months before divorce, the Supreme Court held.

Once a couple moves a court of law for divorce under the Hindu Marriage Act, they have to wait for a minimum period of six months.

Divorce by mutual consent was introduced as an amendment to the Hindu Marriage Act in 1976.

The waiting period under Section 13B was mandated to prevent couples from taking any hasty decision to end their marriage. Marriage is a sacrament in Hinduism.

The waiting period was for them to have enough time to think through their decision to separate.

Divorce was granted only after the 'cooling off' period and once the court found there was no further chance for reconciliation.

"The waiting period will only prolong their agony," a Bench of Justices A.K. Goel and U.U. Lalit observed in their judgment.

The court held that the waiting period should be done away with in cases where there is no way to save the marriage and all efforts at mediation and conciliation have run their course; where parties have genuinely settled their differences including alimony, custody of child, etc, between themselves; and already a year and a half has passed since their first motion for separation.

The application for waiver of waiting period can be filed in court within a week of their first motion for separation. The proceedings can be done through video-conferencing, the court observed.
'Institutions of eminence' status to give freedom from regulatory mechanisms
The University Grants Commission announced the beginning of a 90-day application process for universities public and private to seek the status of institutions of eminence, which will provide them freedom from the regular regulatory mechanisms.

Twenty institutions 10 public and 10 private will be given this status with the aim to give them freedom to become world-class institutions.

The 10 state-run institutions will have an additional benefit provision of Rs. 10,000 crore over a period of 10 years, over and above the regular grants.

The aim of the scheme is to help institutions break into the top 500 global rankings in 10 years, and then break into the top 100 over time.

By March-April 2018, the chosen institutions will be accorded the status of "Institutions of Eminence" with a mandate to achieve world-class status over 10 years.

The institutions which can apply are divided into three categories existing government educational institutions, existing private higher educational institutions and sponsoring organisation for setting up of private institutions.

Institutions in the top 50 of the National Institute Ranking Framework rankings or those who have secured ranking among top 500 of the Times Higher Education World University Rankings, QS University Rankings or Shanghai Ranking Academic Ranking of World Universities are eligible to apply.

The HRD Ministry will set up an empowered expert committee to process the applications.
A "graded approach" to prohibition of fireworks
The Supreme Court modified its November 2016 ban on the sale of firecrackers in the National Capital Region (NCR), noting that a complete ban is "too radical a step."

The apex court lifted its suspension of valid permanent licences in the NCR, which encompasses the entire National Capital Territory of Delhi, including New Delhi as well as urban areas surrounding it in the neighbouring States of Haryana, Uttar Pradesh and Rajasthan.

On November 11, 2016, the Supreme Court had ordered the suspension of all licences permitting the sale of fireworks, wholesale and retail within the NCR till further orders.

It had banned the grant or renewal of firecracker licences on a slew of petitions seeking a ban on the use of fireworks. Further, the air quality had worsened manifold after Deepavali in 2016.

In a paradigm shift from its stand last year, the court struck a balance between its primary concern to protect the "human right to breathe good quality air" and the commercial interests of the fireworks industry. It has now opted for a "graded approach" to prohibition of fireworks.

The modification is a big relief to Sivakasi fireworks manufacturers, who had challenged the 2016 ban. They contended the ban had left 821 fireworks industries and five lakh employees in dire straits.

Consequently, a complete ban on the sale of fireworks would be an extreme step that might not be fully warranted by the facts available to us. There is, therefore, some justification for modifying the interim order passed on November 11, 2016 and lifting the suspension of the permanent licences. it is necessary to ensure that injustice is not caused to those who have already been granted a valid permanent licence to possess and sell fireworks in Delhi and the NCR.
'90-90-90' target by UNAIDS tardy in Odisha
A large number of HIV positive persons don't know their infection status

Experiences in Ganjam, the most HIV-infection prone district in Odisha, have hinted that progress on the '90-90-90' target set by the United Nations Programme on HIV and AIDS (UNAIDS) has been tardy in the State.

As per the '90-90-90' target, 90% of all HIV infected persons should get diagnosed and know their HIV positive status. Ninety per cent of these diagnosed HIV positive persons are to be provided regular Antiretroviral Therapy (ART), and 90% of people taking ART should show signs of viral suppression, which reduces their scope of infection.

Only a small section of HIV-infection prone people have got themselves tested. It means that a large number of HIV-positive persons do not know their HIV infection status.

As per a study, at any time of the year over five lakh rural males of reproductive age from Ganjam stay away from their families as migrant labourers outside Odisha.

But the total number of persons tested in Ganjam in a year is around 90,000,

It means most migrant labourers, who have chances of bringing back HIV infection to their homes in Ganjam, do not get tested.
M-777 gun damaged during field test
$737 mn deal with U.S. on the howitzer

An M-777 ultralight howitzer from the U.S. was damaged during field testing in Pokhran on September 2.

Last November, India signed a deal with the U.S. government under the Foreign Military Sales programme for 145 of these guns at a cost of $737 million.

During the firing, the projectile which was the fifth of the series exited the barrel in multiple pieces.

The gun, manufactured by BAE Systems of the U.S., was using Indian ammunition, and the field trial was under way for compilation of firing tables.

The extent of damage to the barrel is being assessed by a joint investigation team. No one has been injured.

Field trials will resume after an analysis is conducted by the investigation team.

BAE Systems said in a statement that it was working closely with the Indian Army and the U.S. government to evaluate the incident.

As part of the agreement, two guns arrived in April for calibrating range tables and three more guns will be arriving in September 2018 for training.

Deliveries are slated to start in March 2019 and at the rate of five guns a month, will be completed by mid-2021. While 25 guns will be imported, the remaining 120 will be assembled in India by the Mahindra group.

The Army has not inducted any new artillery gun after the Swedish Bofors in the 1980s.

After several failed attempts, many deals are in progress.

The M-777 agreement was the first one to be concluded.
Chakmas to get citizenship status
As the Union government remains undecided on the procedure to deport the Rohingya, it is all set to give citizenship to over one lakh Chakma-Hajongs, Buddhists and Hindus who fled to India in the 1960s to escape religious persecution in the Chittagong Hill area of Bangladesh (undivided Pakistan then).

Home Minister Rajnath Singh will chair a meeting where a final decision to grant citizenship to the Chakma-Hajongs will be taken.

Arunachal Pradesh Chief Minister Pema Khandu will be present at the meeting.

They would be granted citizenship but will not have any land ownership rights in Arunachal Pradesh, a predominantly tribal State. The Arunachalis have opposed giving any rights to Chakma-Hajongs.

They would be free to buy land anywhere else in India but not in Arunachal Pradesh. They could continue to live in the transit camps where they have been housed since 1964-65.

Any procedure on deportation of Rohingya will be an extrapolation of the existing policy on Bangladesh. First step is to identify them as most of them claim they are Indians. The number of Rohingya living in India is an estimate by the intelligence agencies. Identifying an undocumented citizen was a long process.

The police will have to enquire if the person is not an Indian citizen. Then he or she will be declared a foreigner. A foreigner not having a document is an illegal immigrant. A communication will be sent to Myanmar to verify their address. Deporting them will be the last step and the process has not been finalised yet.
Fight to prove Bhagat Singh's innocence
Pakistani lawyer files petition in Lahore High Court to set sentence aside

Eighty-six years after revolutionary Bhagat Singh was hanged for the murder of a British police officer, a Pakistani lawyer is fighting to prove the legendary Indian freedom fighter's innocence in a Lahore court.

Advocate Imtiaz Rashid Qureshi filed a fresh petition in the Lahore High Court for the early hearing of his case to prove Singh's innocence.

The Division Bench of the Lahore High Court had in February 2016 asked the Chief Justice of Pakistan to constitute a larger Bench to hear the petition by Mr. Qureshi, who runs the Lahore-based Bhagat Singh Memorial Foundation. But no action has been taken yet.

In the petition, Mr. Qureshi said Singh was a freedom fighter and fought for the freedom of undivided India.

His petition wants the court to set aside the sentence of Singh by exercising principles of review and order the government to honour him with a state award.

Singh was hanged by British rulers on March 23, 1931 at the age of 23 in Lahore, after being tried on charges of hatching a conspiracy against the colonial government. The case was filed against Singh, Sukhdev and Rajguru for allegedly killing John P. Saunders.

In 2014, the Lahore police searched through records of the Anarkali police station on the court's order and managed to find the First Information Report on Saunders' killing in 1928.A copy of the FIR was provided to Qureshi on the court's order.

Written in Urdu, the FIR was registered with the Anarkali police station on December 17, 1928 at 4.30 p.m. against two 'unknown gunmen.'

The case was registered under Sections 302, 1201 and 109 of the Indian Penal Code. Singh's name was not mentioned in the FIR, though he was eventually handed down the death sentence for the murder.
Sundarbans is a home for rich flora and fauna
Zoological Survey of India produces first exhaustive compendium of animal diversity in the Sundarban islands and the threats it faces

In a first, the Zoological Survey of India (ZSI) has published an compendium of animal species in the Indian Sundarbans, estimating that there are 2,626 of them in the fragile island ecosystem. The listing includes a diverse 25 phyla, as they are biologically classified.

The Indian segment of the Sundarbans, part of a UNESCO World Heritage site, forms part of the Ganga-Brahmaputra delta across 9,630 sq. km, distributed among 104 islands.

The region hosts 2,487 species that come under the zoological kingdom of Animalia, and 140 under the more primitive Protista.

The publication titled Fauna of Sundarban Biosphere Reserve is the first consolidated and updated information of the faunal diversity of the Sundarbans. It lists over 2,600 species, including the new species described from the mangrove ecosystem as well as threats faced by them due to climate change.

The publication catalogues the entire faunal diversity of Sundarban Biosphere Reserve covering 9,630 sq. km spread over 19 blocks in South 24 Parganas and North 24 Parganas of West Bengal.

The researchers document the famous tigers of these islands, which have adapted to aquatic conditions around, the human-tiger conflict, and behaviour of the big cat.

The fortunes of 50 mammalian, 356 species of birds, 11 turtles, 13 lizards, about 30 snake species, covers about 350 species of fish, 753 insect species are encountered.
::INTERNATIONAL::
Balzan Prizes
Two U.S. scientists whose work has contributed to creating immunological treatments for cancer are among the winners of this year's Balzan Prizes, recognising scholarly and scientific achievements.

Another winner is economist Bina Agarwal, a professor at the University of Manchester, who was recognised in the gender studies category for her "heroic" work studying women's contributions to agriculture in India.

James Allison of the University of Texas MD Anderson Cancer Center and Robert Schreiber of the Washington University School of Medicine were cited for their work on antibody treatments that has increased the survival of patients with metastatic melanoma.

The Balzan Foundation awards two prizes in the sciences and two in the humanities each year, rotating specialities to highlight new or emerging areas of research and sustain fields that might be overlooked elsewhere.

Recipients receive 750,000 Swiss francs (Rs. 5 crore), half of which must be used for research, preferably by young scholars or scientists.

Nobel Prize-winner Jules Hoffman, a presenter of the awards, said the work focusing on using the immune system to fight cancer, expanding from the traditional treatments of removal, radiation and chemotherapy, has already had success in 25 to 30% of melanoma patients in a study who had previously gone through the traditional battery of treatments. It is now being developed for small cell lung cancer and rectal cancer.

The other winners include a Belgian astrophysicist Michael Gillon for his work that has helped map new solar systems from the comfort of planet Earth, using robotic telescopes instead of much more costly satellites.

Germans Aleida and Jan Assmann, a married couple recognised for their work presenting collective memory "as a requirement for the formation of the identity of religious and political communities", will also be awarded.

This year, the Balzan Foundation also awarded a fifth prize, in international relations, which was deferred from last year after the committee failed to reach agreement on a winner. It went to Robert O. Keohane of the

Woodrow Wilson School at Princeton University, best known for his influential 1984 book After Hegemony: Cooperation and Discord in the World Political Economy .
Prizes will be awarded in Bern, Switzerland.
US wants India to minimise the trade imbalance between them
The rising imbalance in trade with India is a concern for America and India must open its market to more American companies, U.S. Commerce Secretary Wilbur Ross said.

Mr. Ross said India must also take more effective measures to protect innovation by improving its intellectual property protections.

The Commerce Secretary was addressing a gathering at the U.S.-India Business Council on the forthcoming Global Entrepreneurship Summit (GES) in Hyderabad in November.

"[U.S.] President [Donald] Trump and Prime Minister [Narendra Modi] have announced to co-host this year's GES in Hyderabad and [they] reiterated the importance of close relations between our two growing economies.

Annual bilateral trade between the U.S. and India has doubled over the last decade and was $114 billion in 2016. Unfortunately, over the same period, trade deficit tripled, now at $27 billion.

The imbalance was visible in investments as well. While India's investors invested $12.1 billion in the U.S. last year, U.S. investors invested $32.9 billion in India. That only 1.5 % of U.S. exports were to India, while only 6.3 % of Indian exports goes to America.

India and the U.S have decided to move to the 2+2 format of engagement involving the Secretaries of Defence and State Departments from the American side and Ministers for Defence and External Affairs Ministers from the Indian side.

The Strategic and Commercial Dialogue between the two countries is being discontinued from this year.
Census data for Sikhs in Britain
Over 100 MPs from across political spectrum back efforts to get country's community recognised as separate ethnic group

Over 100 British MPs, from across the political spectrum, are backing efforts to get Britain's large Sikh community recognised as a separate ethnic group by Britain's official statistics body.

A letter to Britain's National Statistician John Pullinger had garnered signatures from 113 MPs, following community efforts to push for the change, which they believe will improve access to public services for the community, as well as greater acknowledgement of the challenges faced by them.

A number of issues faced by Sikhs ranging from reporting of hate crimes through to accessing healthcare provision in the U.K. are not receiving appropriate attention by public bodies as they often only monitor ethnic group categories specified in the census.

The current categories for Asian background include Indian, Pakistani, Bangladeshi, Chinese, and Other.

With the legislation for the 2021 census due to go before Parliament next year the next few weeks would be crucial said Davinder Singh, principal adviser for the Sikh Federation U.K., which has long been campaigning on this issue, and which is due to meet with the ONS alongside the APPG.

Britain first began gathering ethnic group data in its census in 1991, but the issue gained relevance in 2000 when legislation required public bodies and others to monitor their provision of services to these groups.

The lack of data on the Sikh community made other things harder too such as the race audit commissioned by the government last year to look into racial disparities in the delivery of public services.

Over 40,000 schools, hospitals and other bodies use ethnic group data from the census to plan and make decisions on their provisions, and many that the Sikh Federation had worked with had indicated that having the separate category would help them in better carrying out their work.

The move is unlikely to be opposed by India, sources suggested, adding that there was recognition that being Indian and Sikh were not the same thing.
::ECONOMY::
Bandhan appoints lead managers
Bandhan Bank has appointed Goldman Sachs Group Inc., JP Morgan Chase & Co., Axis Bank, JM Financial and Kotak Mahindra Bank as lead managers to manage its proposed initial public offering (IPO).

The lender said that the appointment had been cleared by the bank's board, although the size of the share sale, its timing and all other related aspects had not yet been finalised.

The final decision on the IPO would be subject to obtaining all regulatory approvals. The bank had posted Rs. 1,111.95 crore net profit for 2017-18.

It reported a 35% rise in its net profit for the quarter ended June 30, 2017 .
It is iPhone X
"One more thing." With that phrase, Apple paid homage to its late co-founder Steve Jobs on the 10th anniversary of the iPhone at Cupertino in California when it unveiled its latest and almost certainly most expensive new version of the device, the iPhone X.

CEO Tim Cook called it "the biggest leap forward" since the first iPhone. ("X" is pronounced 10, not the letter X.) It loses the home button, which revolutionised smartphones when it launched, offers an edge-to-edge screen and will use facial recognition to unlock the phone.

Apple also unveiled a new iPhone 8 and a larger 8 Plus with upgrades to cameras, displays and speakers. Those phones, Apple said, will shoot pictures with better colours and less distortion, particularly in low-light settings.

The display will adapt to ambient lighting, similar to a feature in some iPad Pro models. Speakers will be louder and offer deeper bass. Both iPhone 8 versions will allow wireless charging, a feature thought to be limited to the anniversary phone. Many Android phones, including those made by Samsung, already have this.

This is the first product event for Apple at its new spaceship—like headquarters in Cupertino, California. Before getting to the new iPhone, the company unveiled a new Apple Watch model with cellular service and an updated version of its Apple TV streaming device.
Coal India planning to diversify its activities
Coal India Ltd. is planning to enter metals mining, according to a top official. CIL is also open to making an overseas acquisition if there is an opportunity.

"This is a proposal. The segments we are looking at include iron ore, bauxite, copper and nickel."

CIL's core competence was mining and this was a diversification move as part of its shift from a coal producing firm to an energy producing one. If techno-economic feasibility studies supported the move it could be done.

CIL had recently mandated KPMG to prepare its 2030 vison document.

With government's efforts to push renewable energy due to international conventions on climate change, increase in carbon cess and other initiatives for lesser use of coal, there is a need for Vision 2030 for the coal sector, which takes into account the environmental factors such as reduction of carbon footprint.
To meet Basel III norms banks will need $65 billion extra capital by FY19
Indian banks will need about $65 billion additional capital to meet the new Basel-III norms that will be fully implemented by end March 2019, rating agency Fitch said..

While capital needs have fallen from the ratings agency's earlier estimate of $90 billion due to asset rationalisation and weaker-than-expected loan growth, state-run banks which accounted for 95% of the estimated capital requirement, have limited options to raise the capital, Fitch said.

Prospects for internal capital generation are weak and low investor confidence impedes access to the equity capital market. State banks are likely to be dependent on the state to meet core capital requirements.

Fitch said the government will have to pump in more than double, even on a bare minimum basis and excluding buffers, to raise loan growth, address weak provision cover, and aid in effective bad loan resolution. The gross non-performing loan ratio has reached 9.7% in FY17, up from 7.8% in FY16.

The government is committed to investing only another $3 billion in fresh equity for 21 State banks over FY18 and FY19, having already provided most of the originally budgeted $11 billion. On cases that have filed for bankruptcy, Fitch said most banks do not expect haircuts to exceed 60%.

However, those loss assumptions may look optimistic considering the first resolution of corporate debt under the government's new insolvency code produced a recovery rate of just 6%. Banks argue this cannot be extrapolated to the other exposures, which they say are backed by more productive assets.
Actions to break the network of shell companies
Action follows cancellation of registration of 2.1 lakh defaulting companies

The Ministry of Corporate Affairs (MoCA) has said it has identified 1.06 lakh directors of 'shell companies' for disqualification under the relevant provisions of the Companies Act, 2013. This is part of actions to break the network of 'shell companies' and the fight against black money/money laundering activities.

Professionals including Chartered Accountants, Company Secretaries and Cost Accountants associated with such defaulting firms and involved in illegal activities have been identified in certain cases and the action by professional institutes such as ICAI, ICSI and ICoAI is being monitored.

There is the possibility of using the shell companies for laundering black money. By the end of this month, MoCA would be ready with the relevant details of all defaulting Directors of these shell companies. This whole exercise shall go a long way in creating an atmosphere of confidence and faith in the system paving the way for ease of doing business in India.

The move is pursuant to the MoCA's action of cancellation of registration of around 2.10 lakh defaulting companies and subsequent direction of the finance ministry to banks to restrict operations of bank accounts of such companies by the directors of such companies or their authorized representatives, the MoCA said.
CPI inflation quickens to 3.36%, IIP rises 1.2%
Retail inflation accelerated to a five-month high of 3.36% in August, spurred by sharper increases in the prices of food items particularly vegetables and fruits.

Price gains measured by the Consumer Price Index quickened from July's 2.36%, as the food and beverages segment posted a growth of 1.96% in August, compared with the 0.43% uptick in July.

Separately, industrial output as gauged by the Index of Industrial Production (IIP) witnessed a growth of 1.2% in July, rebounding from a contraction of 0.1% in June. Improvements in performance at the mining and electricity sectors buoyed the index, with expansion in the mining sector at 4.8%, up from 0.4% in June.

The electricity sector grew 6.5% in July, accelerating from 2.1% in the previous month.

Manufacturing, however, grew only 0.1%. Still, this was an improvement from June's 0.4% contraction.

Although the IIP has improved compared to the previous month, the level is still very low, so it cannot be taken as a symptom of a turnaround in the economy. The electricity and mining sectors are largely driven by the government's own demand. Some improvement was expected because of the government's own expenditure.

With retail inflation now edging closer to the Reserve Bank of India's upper bound for price gains, economists see reduced prospects for any immediate interest rate cut by the central bank.