Current Affairs for BANK, IBPS Exams - 22 July 2022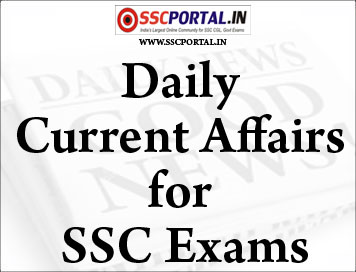 Current Affairs for SSC CGL Exams - 22 July 2022
::NATIONAL::
BJP MP Ravi Kishan to table population control bill as 'Vishwa Guru' formula
BJP MP Ravi Kishan will introduce private members' bill on population control, days after Union minister Bharati Pravin Pawar told the Rajya Sabha that the government is not contemplating any legislative measures for population control. The actor-turned-politician argued India can be "vishwa guru", or world leader, only after the population control bill is enacted
Stressing the need to bring the country's population under control, the Lok Sabha member said that the way India's population is rising, "we are heading towards explosion".
"We can be Vishwa Guru only when Population Control Bill is brought. It is very important to bring population under control. With the way in which it is rising, we are heading towards explosion. I request the Opposition to let me introduce Bill and listen to why I want to do. Discuss!" ANI quoted Ravi Kishan as saying.
He added, "This is a Bill for development. The day it is passed, the nation will fly towards being a Vishwa Guru. I am viewing this Bill only with an aspect of development and not that of caste or religion."
A recent UN report said that India is projected to surpass China as the world's most populous country next year. But the World Population Prospects 2022 also highlighted that India's Total fertility Rate (TFR) had come down from 5.9 children per woman in 1950 to 2.2 children per woman in 2020, just shy of 2.1 replacement level fertility.
The introduction of the private members' bill by Ravi Kishan would be possible today only if Lok Sabha is able to conduct any business given continuous adjournments since beginning of this year's monsoon session of the Parliament. Opposition parties have been demanding a debate on the inflation and GST imposed on some items of daily use.
::INTERNATIONAL::
Japan warns of rising global tension, Russia-China arms ties
Japan warned of escalating national security threats stemming from Russia's war on Ukraine and China's tensions with Taiwan in an annual defence paper issued Friday, as Japan tries to bolster its military capability and spending.
The annual defence white paper, approved by Prime Minister Fumio Kishida's Cabinet on Friday, highlights the need for Japan's military buildup to address security concerns and seeks to gain public support for a stronger military and increased budget, which Kishida's governing party aims to double in coming years.
The report comes months ahead of a revision to Japan's national security strategy that is expected to include a pre-emptive strike capability, which critics say would go beyond the limitations of Japan's pacifist constitution.
China, Russia and North Korea top Japan's security concerns in the 500-page report. Defence Minister Nobuo Kishi, in a statement in the report, said the Indo-Pacific region is "at the centre" of international strategic competition.
The report calls Russia's war on Ukraine a "serious violation of international law" and raises "concerns that the effects of such unilateral changes to the status quo by force may extend to the Indo-Pacific region."
The paper doubled its contents on Taiwan from a previous edition last year. It raised concerns over Russia's invasion of Ukraine and its impact on Asia, possibly setting a precedent for what may happen between China and Taiwan.
The report noted growing tension between Washington and Beijing over Taiwan, as the US continues to send warships through the Taiwan Strait and sell arms to Taipei, while Chinese warplanes have increasingly entered Taiwanese airspace.
China claims self-governing Taiwan as its own territory to be annexed by force if necessary.
The report said military cooperation between the two countries should be closely watched because it could have a "direct impact" on Japan's security.
China and Russia are stepping up joint operations and exercises involving their warships and military aircraft around Japan, while Beijing is threatening to use force over Taiwan and escalating regional tensions, Kishi said.
The report comes as Kishida's government pledges to bolster Japan's military capability and budget under a revised national security strategy and basic defense guidelines that are planned for release later this year.
::ECONOMY::
Bad loan ratio of banks likely to fall to 5-5.5% by March 2024: S&P Global
S&P Global Ratings on Thursday said non-performing loans of banks are expected to decline to 5-5.5 per cent of the total advances by March 2024.
As per the latest Financial Stability Report published by the RBI, the gross non-performing assets (GNPA) declined to a six-year low of 5.9 per cent in March 2022.
"We project the banking sector's weak loans will decline to 5-5.5 per cent of gross loans by March 31, 2024. Likewise, we forecast the credit costs to stabilise at 1.5 per cent for fiscal 2023 and further normalise to 1.3 per cent, making credit costs comparable to those of other emerging markets and India's 15-year average," the rating agency said in a report.
The small and midsize enterprise sector and low-income households are vulnerable to rising interest rates and high inflation, but it expects these risks to be limited, the agency added.
With an economic pick-up, residual stress for these segments should start abating, it said, adding that NPL recoveries are likely to also gain momentum.
It also said India's economic growth prospects should remain strong over the medium term, with GDP expanding 6.5-7 per cent annually in fiscal years 2024-2026.
The economy's long-term higher growth rate versus peers highlights its historical resilience. India's wide range of structural trends, including healthy demographics and competitive unit labour costs, work in its favour, it noted.
Additionally, it said, the government is likely to remain supportive of the system and there is a very high likelihood the government will continue to support public-sector banks, notwithstanding plans to privatise two such banks.
In the next few years, the report said, loan growth to stay somewhat in line with the trajectory of nominal GDP, and loan growth to the retail sector to continue to outperform the corporate sector.
India to import 76 MT coal to meet demand; power tariff to go up: Report
India is planning to import nearly 76 million tonnes (MT) of coal this fiscal year to reach the fossil fuel shortfall in power plants, a move that can result in an increase in electricity tariff by 50-80 paise, Mint reported quoting two government officials.
As India's coal production is affected in the monsoon season and coal supplies to power plants are hit in August and September, the report stated that state-run Coal India Ltd would import 15 MT to supply to the plants.
NTPC Ltd, India's largest power generator, and Damodar Valley Corporation (DVC) will import another 23 MT of coal. Power generating firms (gencos) and independent power producers (IPPs) are planning to ship another 38 MT this fiscal, Mint reported.
India's peak electricity demand met on June 9 touched a record high of 211 GW. On July 20, the maximum power demand met stood at 185.65 GW as demand eased during the monsoon.
"The fuel bill will vary from generator to generator. For NTPC and DVC, after blending 10% of imported coal, the cost will be up 50-60 paise per unit. For others, it will depend upon distance, and vary from 50 to 80 paise. We shall be able to weather the crisis, given the arrangements that have been made," one of the government officials told Mint.
The official added, "One has to observe till September to see if we have weathered the crisis. The imported coal orders by our companies have started coming in."
During this period, the shortfall is generally around 15 MT, which the CIL will meet from July end, the official told Mint.
"The problem will come in August-September. We are assuming that the supply shortage may remain till October 15. Hopefully, we will tide over the problem with the help of imported coal. The problem may kick-in after August 15," the official added.
India has decided to import coal as domestic coal supplies will not meet the daily demands in August, September and October, the newspaper stated.
::Science and tech::
String theory: NASA Mars rover discovers mystery object
The bundle of debris was first spotted July 12 by the rover's front left hazard avoidance camera -- but when Perseverance returned to the same spot four days later, it was gone.
A tangled object discovered by NASA's Mars Perseverance rover has intrigued space watchers, leaving some musing tongue-in-cheek about the quality of Italian dining on the Red Planet.
But the most plausible explanation is more prosaic: it's likely remnants of a component used to lower the robotic explorer to the Martian surface in February 2021.
"We have been discussing where it's from, but there's been speculation that it's a piece of cord from the parachute or from the landing system that lowers the rover to the ground," a spokesman for NASA's Jet Propulsion Laboratory told AFP.
"Note that we don't have confirmation that it's one or the other," he added.
The bundle of debris was first spotted July 12 by the rover's front left hazard avoidance camera -- but when Perseverance returned to the same spot four days later, it was gone.
It was probably carried away by wind, like a piece of a thermal blanket that might have come from the rocket-powered landing system, which was spotted last month.
The accumulating trash left behind by Perseverance is considered a small price to pay for the rover's noble scientific goals of searching for biosignatures of ancient microbial life forms.
And these items may one day become valuable artifacts for future Mars colonists.
"In a hundred years or so Martians will be eagerly collecting up all this stuff and either putting it on display in museums or making it into 'historical jewelry,'" tweeted amateur astronomer Stuart Atkinson.
::Sports::
CWG: Focus on Sindhu but doubles key to India retaining mixed team gold
Star shuttlers, including P V Sindhu, will chase individual gold medals but doubles would also under the spotlight as India would aim to retain the mixed team title and continue their consistent run at the Commonwealth Games.
Ever since Dinesh Khanna claimed India's first badminton medal -- a bronze at the quadrennial event in 1966 -- the country has accumulated 25 medals, including seven golds, riding on individual brilliance.
In the last edition at Gold Coast, Indian players were on fire, claiming an unprecedented six medals, including two gold.
In the individual event, the coveted yellow metal will again be a target not only for double Olympic medallist Sindhu but also for world championships silver and bronze medallists Kidambi Srikanth and Lakshya Sen respectively.