(Bank Planner) Strategy For Examination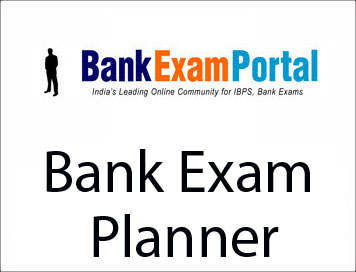 (Bank Planner) Strategy For Examination
A) Quantitative Aptitude
The quantitative aptitude for bank exams tests the numerical abilities of the candidate. Bank quantitative aptitude questions are usually from topics in basic mathematics like averages, ratio and proportion, percentage, simple/compound interest etc. Bank numerical ability,as bank quantitative aptitude is also referred to sometimes, usually contains 40 questions in most of the bank numerical ability exams. The following points should be kept in mind while preparing for and attempting this section.
Don't be afraid of mathematics- the section demands very basic mathematics which can be learnt through continuous practice and some tricks.

Practice is the key.

While preparing for this section- keep notes of the important formulae-this will help you in revising them later.

Read and thoroughly review the math topics that are tested. Work on areas where you need improvement.
At the Test
Do all easy questions first, leaving the more time-consuming and difficult ones for later.

Before solving a problem, read all the answer choices. They will all be in the format that your own solution should take

Eliminate those choices that simply don't make sense.

Look for shortcuts.
B) Reasoning Ability
This is the reasoning ability part of the probationary officer exam which is very easy if time permits.And this should be the third section to attempt in the exam after general awareness and english ability respectively.You should be able to complete 50 reasoning questions in about 40-45 minutes with atleast 75% correct answers to be able to rank higher in the exam.
(C) General Awareness and Business GK
How to prepare for General Awareness Test Preparation for bank exams must be underway for most, as the exams for some of the big banks are to take place in the next few months.As we already mentioned about the common question paper model of major bank exams,let us now go deeper about each part.The first part in most written tests would be Test of General Awareness.
What is General Awareness ?
General Awareness test is nothing but pure General knowledge.Almost all exams – competitive exams,banking exams, placement exams have one such paper but the name could differ.It is meant to test the knowledge of the candidate,apart from the usual subjects.This test also helps to find out, how fast the candidate is,in gathering latest information around them
What type of Questions will be asked in General Awareness?
As the name suggests - General awareness,the questions would be based on the current events happening in India and across the world.Depending upon the nature of the job,emphasis will be given to a particular category.More questions can be asked on Economy,Finance and Banking technologies, incase of a bank's General awareness test.Questions on world politics,social & cultural events can be asked in competitive exams.
How to Prepare for General Awareness Tests?
Preparing for General awareness or General knowledge cannot be accomplished in a single day.It must be started well in advance.Read newspapers,news magazines, general knowledge books & gather information from all sources.
BUSINESS GK:
IT Sector:
Tata Consultancy Services (TCS)
Headquarters : Mumbai
Slogan : Beyond the obvious
Founded in 1968, TCS is an IT , Consulting service and BPO Qutsourcing Organisation.
Infosys Technologies
Headquarters : Bangalore
Slogan : Powered by Intellect, Driven by values.
Infosya is an IT services founded in Pune in 1981 by N.R. Narayana Murthy. In 1999 it became the first Indian company to be listed in NASDAQ.
Wipro Technologies
Headquarter : Banglore
Slogan : Applying Thought
It is a subsidiary of wipro limited established in 1980. It is the third largest IT services company in India. In 2006, It became world's largest Research and Development Service Provider. It is listed in NYSE.
SATYAM
Headquarters : Hyderabad
Slogan : What Business Demands
Founded in 1987 by B. Ramalinga Raju.
Cognizant Technology Solutions
Headquarters : New jersey
Slogan: Passion for building stronger businesses
Founded in 1994 and listed in NASDAQ with significant operations in India.
PATNI COMPUTER SYSTEMS
Headquarters : Mumbai
Founded in 1978 and listed in New York Stock Exchange.
HCL Technologies Limited
Headquarters : Noida
Founded in 1976, it is a listed subsidiary of HCL, an India based global IT Services Company with more than 53,000 employees.
SUBEX AZURE SYSTEMS
Headquarters : Bangalore
Slogan: A thought leader In revenue maximization.
I-Flex Solutions
Headquarters: Mumbai
Slogan : Empowering Financial Institutions globally.
Established in 1991. In 2005, i–flex became a majority owned Subsidiary of Oracle Corporation.
INTEL
Slogan : Leap Ahead
Founded in 1968 world's largest semiconductor manufacturer has significant Indian Operations which started in 1988.
IBM INDIA
Headquarters : Bangalors
Slogan : On Demand Business
Founded in 1992 (Re-entry after an exit in the decade of 1970) IBM is the fourth larqest employer in the India. It is only behind TCS Infosys and wipro.
ORACLE INDIA
Headquarters : New Delhi
Oracle opened its first office in India in 1991 and formed its Indian subsidiary in 1993.
Microsoft India
Microsoft entered in India in 1990.
"Project Shiksha Microsoft in partnership with state governments, aims to accelerate computer literacy for teachers and students across government schools.
Microsoft developed an IT solution "Swaraj" to manage the panchayati Raj System in the country. It was launched on November 27 2002.
Dell INDIA (Pvt). Limited
Headquarters : Bangalore
Incorporated in 1996 and direct operations started from 2000. Dell is world's largest personal computer manufacturer.
GENPACT
Headquarters : Gurgaon, Delhi
Slogan : Global Business impact
Founded in 1997, it is a BPO Company formerly owned by GE of USA.